Missing teeth can lead to several consequences. Besides causing speech and chewing difficulties, severe tooth loss can affect the aesthetics of your face. The skin around your mouth becomes prone to sagging, and your jawbone starts to deteriorate. Also, you will most likely feel less confident about your smile.
The good news:
Getting dental implants can help avoid such problems, as the implants work and look just like natural teeth. However, if you are missing several teeth in your upper or lower jaw, replacing them with single tooth implants can be costly. So what is your option? One option is to consider getting All on 6 dental implants.
In this post, we will provide detailed answers to some of the questions that patients usually ask.
What are All-on-6 dental implants?
The All-on-6 dental implants treatment procedure involves replacing an entire set of teeth in either jaw. Six dental implants are used to firmly support a bridge, which holds the prosthesis teeth in place. This procedure eliminates the need to use an anchor screw for each missing tooth, thus making the treatment less invasive.
The implants permanently bond with the jawbone. They are sturdy enough to withstand almost the same level of pressure created by natural teeth. You can enjoy nearly all types of foods comfortably. What's more, the implants require the same maintenance as natural teeth. No special care, pastes, or creams are needed.
All on 6 dental implants are an excellent treatment option for patients who want a permanent solution for a full arch of missing teeth. Those who have several damaged or decayed teeth that need to be removed and replaced with implants might also want to consider this treatment. If you smoke or suffer from diabetes, the risk of the implants failing is significantly high.
Please note that you can be a candidate even if you have low bone density. Bone grafting is not always necessary. However, every case is unique, so your dentist should determine the best course of action after conducting a comprehensive examination. You will undergo digital diagnostic tests (x-rays, cone beam CT scans, etc.) to evaluate the state of your jaw and any other related anatomical structures.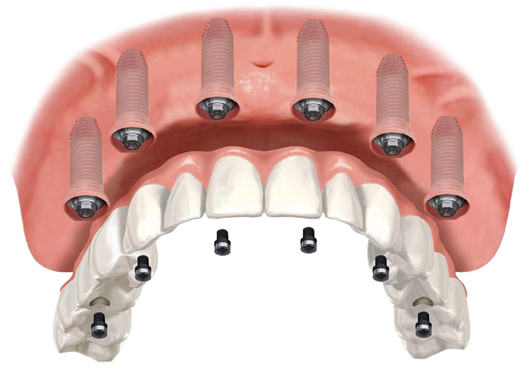 How much does an All-on-6 treatment cost?
The cost of All on 6 dental implants varies greatly. There is a wide range of factors that are likely to influence the cost of your treatment. The ones with significant effects include your geographical location, the experience of the surgeon, bone density, level of anesthesia, need for extractions, and overall oral health.
Generally, many surgeons in the US charge between $22,000 and $31,000 per jaw. If you were to replace your full set of teeth the traditional way, then you would pay between $3,000 and $4,500 for each dental implant.
While doctors will provide discounts when replacing many missing teeth, using the traditional dental treatment would cost you well over $40,000 for 12 implants. The procedure also involves more intense preparation and an extended recovery period.
How does the All-on-6 differ from the All-on-4?
The procedure for placing the All-on-4 and All-on-6 dental implants is similar, and both options address the same dental issues. But there are a few differences between the two dental treatments.
Well, here are the ways the All-on-6 differs from All-on 4.
Number of dental implants
This is the most obvious difference. With the All-on-6 treatment, a patient receives six dental implants on each bridge. All-on-4, on the other hand, utilizes four implants.
Cost
All-on-4 dental implants cost about $17,000 to $30,000, whereas the All-on-6 cost between $22,000 and $31,000 for one bridge. This price can also be reduced for patients who have dental insurance. Each plan is different, but some plans may cover up to $2,000 per annual year on various dental procedures, including implants.
Strength and stability
When it comes to the aspect of strength and stability, All-on-6 ranks better. Many dentists will recommend the All-on-6 implants, especially if your dental case requires more extensive reconstruction. They distribute the chewing pressure better than the All-on-4 dental implants.
Keep in mind, though; the ideal choice of procedure should be determined on a case-by-case approach. The doctor needs to evaluate your state of the jawbone, density, and strength.
Despite the differences, both treatment options are effective and offer an excellent level of comfort with a long-lasting smile. Unlike dentures that subject your jaw to the risk of bone loss, dental implants preserve it instead.
Financing options for All-on-6 dental implants
Cost is one of the factors patients usually take into account when considering the All on 6 dental implants. For the common folk, paying $22,000 upfront can mean abandoning the treatment. Worse even, Medicare and Medicaid insurances do not cover dental implants. And even if you have private insurance, it won't fully cover the cost of your All-on-6 treatment.
Fortunately, you have quite a good number of dental financing options, including:
In-house financing
Many dental offices offer this option. They will work with you to turn your significant medical bill into affordable monthly payments. Some doctors charge interest rates, while others do not charge at all.
Dental loans
If a dental practice does not offer in-house financing, they will probably partner with several leading lenders that provide dental loans.
Since they have a strong relationship with the lenders, you might qualify for loans with favorable terms. If you have a less-than-perfect credit score, you might find bad credit dental loans as well.
Make sure you take time to compare the loan offers at the dentist with what is offered in the market.
Dental discounted plans
Discounted plans work almost the same way as insurance. However, they don't have a waiting period once you enroll, and there are no annual deductibles. A patient only pays their dentist membership fees to receive dental services at a discounted price.
Cosmetic Dentistry Grants
The Cosmetic Dentistry Grant is a non-profit organization that provides financial assistance to patients who need any cosmetic treatment. It is free to apply, although you will undergo a free oral assessment to ascertain your suitability for the treatment plan.
Remember, the government does not regulate the cost of dental procedures. If a surgeon quotes a price you think is too high, you can try to negotiate for a better deal.
Conclusion
All on 6 dental implants can change your life. We recommend that you visit an experienced dentist to evaluate your dental needs. This treatment is worth your money and time. It can give you a beautiful, comfortable set of teeth that look and work like natural teeth.