The term 'root canal' does not bring a smile to most peoples faces. If you recently have been told that you are in need of a root canal by a dental professional, you may be wondering if you have any alternatives. In this article will address what a root canal is, and what potential alternatives you may have to treating your tooth.
What is a root canal?
A root canal is a form of dental therapy that involves the removal of infected nerve tissue from inside the tooth structure. It is commonly performed when a dental cavity has penetrated into the pulp chamber of the tooth. The entirety of the cavity is removed from the tooth, and then small instruments (known as files) are used to clean the inside portion of the tooth structure.
Medicines such as bleach (sodium hypochlorite) and chlorhexidine are also employed to disinfect the tooth, and the canals are ultimately obturated with a material known as gutta percha.
A series of x-rays will be taken during the course of this therapy to make sure everything is going according to plan. Your tooth may also be isolated with a rubber dam prior to the treatment starting.
Why are holistic dentists wary of root canal therapy?
Many holistic dentists have recently been hesitant on performing root canals for a multitude of reasons. The main reason is because they feel that a root canaled tooth cannot be completely sterilized with the methods that contemporary dentistry uses. Bleach and Chlorhexidine rinses, they feel, are not adequate enough to clean out the intricate anatomy within the tooth structure itself.
Another argument that holistic dentistry states is that a root canaled tooth is ultimately a 'dead tissue' inside of your own body. This ultimately can cause health problems, and a weakening of the bodies immune system.
What are the top alternatives to root canal therapy?
Dental Implants: Removing the infected tooth and getting a dental implant placed will probably be the number #1 alternative you may want to look into when root canal treatment is not an option. A dental implant is a screw shaped rod that is inserted into your jawbone. This rod will eventually fuse with your own bone tissue, and once the integration process is completed, a dental crown is constructed to fit onto the implant.
Pulp Capping: This method is performed by very conservative dentists who want to avoid root canals at all costs. A calcium hydroxide liner (called Dycal®) is placed on top of the nerve tissue of your tooth. The liners purpose is to hopefully stimulate your own tooth to form healthy secondary dentin to layer itself on top of the exposed nerve. On top of the Dycal® liner, most dentists will place a Vitrebond®, which is an agent that helps strengthen the underlying dentin. Filling material is ultimately placed onto both of these layers, and over time, it is observed to see if a root canal can be prevented on the tooth.
Dental Bridge: Another alternative that you may have, especially if you are hesitant on dental implants, is called a dental bridge. For many years, this was the #1 fixed option to place your missing teeth. Over time, these have taken a backseat to dental implants, but a lot of dentists still perform them to this very day. Whether it's for health reasons, lack of bone tissue, or personal reasons, bridges are still preferred by some patients.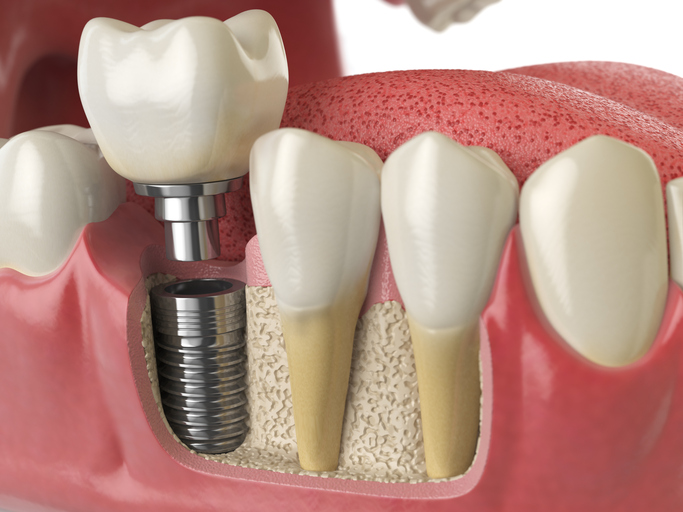 Other Frequently Asked Questions
Are dental implants safer than root canals?
We have seen patients who have had to undergo another root canal procedure within 7-10 years of their initial one, whereas dental implants tend to last a lot longer than that. For those who are looking for a long-term solution, dental implants are the way to go. While both types of procedures have seen success among patients, it seems that implants come with a lot fewer risks than root canals do.
Are root canals bad for your health?
The short answer is no, but there have been safer methods developed over the years that serve as root canal alternatives. No matter what, you will always have the risk of your teeth becoming infected if you don't practice good oral hygiene. While root canal therapy does expose the pulp of your tooth and seal it with a filling, you're just as much at risk of further complication than those who haven't had any form of root canal treatment in the past.
Are root canals really necessary?
One infection starts to form in the pulp of your tooth, a root canal (or one of the many root canal alternatives) is the only choice that you have left. It will not die off on its own which could lead to the infection spreading to other parts of your body and leading to other serious medical conditions.
Can you avoid a root canal?
Yes, as long as you have a strong and effective oral hygiene routine you can avoid having a need for root canal therapy. This also means staying away from sticky foods, foods that are high in acid or sugar, and brushing your teeth at least 2 times per day as well as flossing. Don't forget, regular dental checkups are needed to ensure that your teeth aren't at any risk of being infected as well as have a deeper level of cleaning done than you can get at home.
Is extraction an alternative to a root canal?
Yes, but tooth extraction is usually the last resort as dentists want to be able to save your tooth if there is any chance to do so. However, there are times when the tooth has decayed, become damaged, or become infected to the point where a root canal won't be able to produce satisfactory results. This is usually when the extraction of an infected tooth is recommended in combination with embracing other tooth replacement options.
What happens if I can't afford a root canal?
Since a root canal isn't optional when the pulp of your tooth has become infected, you'll want to look into other ways to cover the cost if you don't have insurance. You can also embrace some of the alternative methods as well, some of which might be less costly than root canal therapy.