A "hot tooth" is defined as a tooth that will not fully numb under a local anesthetic. Patients who are bothered by a hot tooth are often times in excruciating pain, and need the guidance of an emergency dentist as quickly as possible. Patients who have a hot tooth end up choosing between a root canal or a tooth extraction to remedy the problem. But during treatment, your dentist may have difficulty fully numbing the tooth even though adequate anesthesia has been used. Why does this occur? What is preventing your hot tooth from fully numbing?
Main cause of a hot tooth
The theory behind the cause of a hot tooth is severe inflammation in the tissues adjacent to the tooth. Remnants of infection seep through the tooth structure, which in turn causes the body to produce an inflammatory reaction to prevent the infection from spreading. This inflammation in conjunction with the infection prevent the local anesthetic from completely reaching the nerve tissue for complete anesthesia. This is why many patients with a hot tooth never get fully numb during their dental treatment (whether that treatment is a root canal or a tooth extraction). Many will complain that "my tooth won't get numb" during their treatment making it frustrating for the dentist and the patient.
Antibiotics before treatment?
Some dentists may even recommend a course of antibiotics before they work on your hot tooth. How do antibiotics help? With the reduction of infection in the area, inflammation also begins to slowly subside. This allows your dentist to fully numb the hot tooth in question, and perform the procedure without putting you through the anguish of dental pain. The primary antibiotics that are prescribed are Amoxicillin and Clindamycin. Both of these antibiotics are taken for 1 week prior to your procedure.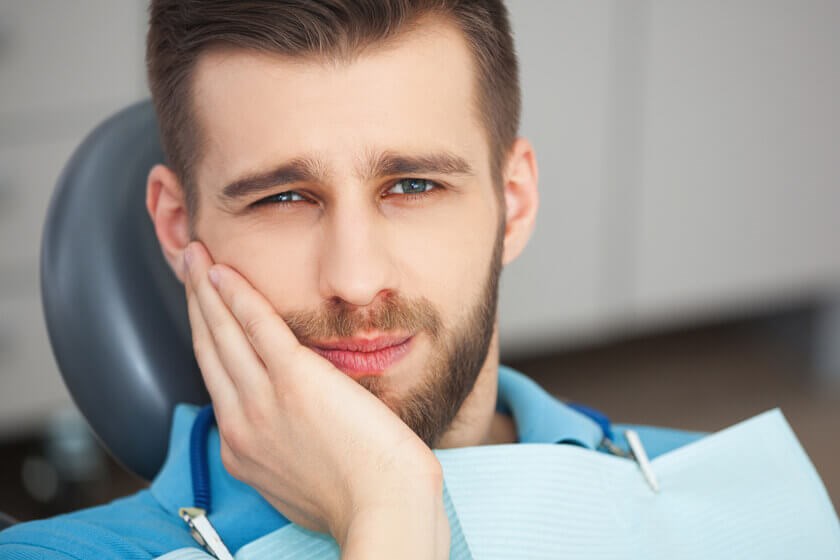 Hot tooth remedies
There are two main remedies to fully cure the problem of a hot tooth.
Root canal therapy: A root canal is recommended when a cavity has penetrated into the nerve tissue of the tooth. A dental drill is used to remove this cavity and find a pathway to the nerves. Once the nerve chamber is reached, the canals of the tooth are cleaned with special hand and rotary files that are expertly designed to remove infected tissue inside the tooth itself. After your tooth is completely disinfected, filling materials are used to obturate the roots of the tooth. It should be known that once a root canal is completed on a hot tooth,

the pain may get worse for a period of 1-2 weeks

. The reason for this is that the area will continue to get more and more inflamed as your body clears itself of the adjacent infection nearby. After the two week mark, your tooth will start to feel a lot better and will slowly be symptom free.
Tooth extraction: If your hot tooth cannot be salvaged. or if finances are an issue, you may choose to have the hot tooth removed. Again, it may be difficult for your dentist to fully numb your tooth. In cases like these sedation dentistry (preferably with IV Sedation) may be a good option for you barring any health issues that prevent you from being sedated.
Pain control after your procedure
Whether you have had the tooth removed or a root canal preformed, more antibiotics may be needed. Your dentist will also prescribe pain medications while your body is healing. Most medication prescribed include NSAIDS like Ibuprofen, or narcotics such as Norco and Tylenol #4.
If you are suffering from a hot tooth, come see our team at Best Dental. We will guide you through a custom treatment plan to alleviate the unbearable pain that you are suffering from.