Planning for dental crowns but confused about their types and their longevity? If so, this article is for you. Read the below section to know each and everything about the dental crowns, from their types to how long do they last!
What Is A Dental Crown?
Dental crown is nothing but a cap your dentist put on your affected tooth in order to restore its shape, size and any other related issue. This cap is customized according to the structure of your teeth. So, once it gets cemented, it encases the tooth and offers it full protection.
Dental crowns are mainly used in the following cases :
Large Cavities
Crooked or weak teeth
To restore the teeth after root canal
To remove discoloration of teeth
Cosmetic reasons – bad shaped teeth
What Are The Different Types of Crowns?
There are basically two main categories of dental crowns: Temporary crowns and Permanent crowns. These two types are further categorized on the basis of materials they are made from. Let's discuss each type in brief.
Temporary Crowns
Before cementing the permanent crowns, teeth of the patient are prepared by means of shaving to ensure there is a smooth base to install a crown on. Once the teeth are prepared, temporary crowns are created and placed on the natural teeth of the patient in order to protect the shaved teeth from damage. Apart from it, the temporary crowns help the patient to function normally until their permanent crowns are fixed. Because temporary crowns are made to last only a few weeks, they are built from less expensive materials like stainless steel, acrylic and various other polymers.
Permanent Crowns
Coming to permanent crowns, they are meant to last for years once they're fixed on the natural teeth. Due to the same reason, they are made from high-quality materials such as ceramic, porcelain, resin and some other metal-infused materials as well.
Here are some of the main types of dental crowns used in dentistry:
1.Stainless Steel
Stainless steel crowns are usually used as temporary crowns. They are fixed to prevent the newly shaved tooth from damage until the permanent crown is prepared. These crowns are also used for children to prevent the primary tooth from further decay.
Advantages :
These crowns are very inexpensive.
Can be used safely on children
Disadvantages:
Wears off quickly
Doesn't look great.
Are meant to last only a few weeks.
2. Gold crowns
Gold crowns are not fully made from gold. In fact, they are made from a combination of copper and other metals like chromium and nickel. These crowns are mainly known for their durability and strength. They are very less popular due to their abnormal color which is very noticeable.
Advantages:
They are very strong and long-lasting if taken good care of.
Requires much less proportion of teeth to be removed.
Doesn't wear down very quickly.
Recommended for posterior restorations.
They tend to be the longest lasting crowns in the mouth with some lasting over 20 years!
Disadvantages:
They look totally different from a natural tooth, so they become an aesthetic concern for front teeth.
The metal can sometimes produce certain allergic reactions such as swelling and itching.
3. All Porcelain Crowns
Porcelain crowns are the most popular type of crowns in dentistry. They are strong and last for years. Also, they look almost like natural teeth.
Advantages:
Provides a natural look as they totally match the surrounding teeth in terms of size, shape and even color.
An ideal option for frontal teeth restoration.
Non-toxic.
They typically last for up to 15 years without needing to be replaced.
Disadvantages:
Less durable than the metal crowns like Gold.
Needs special care.
Not suitable for the people with bruxism (grinding).
They tend to be more expensive than metal crowns.
3. Metal Infused Porcelain Crowns
Metal infused porcelain crowns are another form of popular dental crowns due to their strength and aesthetics. The metal part provides greater strength and durability and the porcelain part gives them a very natural finish.
Advantages:
Looks very natural.
They last for years. Like Porcelain crowns their longevity is around the 15 year mark.
Work pretty well for different types of teeth.
Affordable than other types of porcelain crowns.
Disadvantages:
Sometimes the metal in these crowns causes a grey line to develop at the gum line which looks odd.
These crowns are not suitable for the people who have a habit of clenching their teeth. They wear down easily in such conditions.
5. Zirconia Crowns
These are relatively new types of dental crowns that are known to provide the strength of metals along with the aesthetics of porcelain. These are widely used dental crowns nowadays.
Advantages:
Known for great aesthetics.
Offers great strength and longevity to teeth.
Less possibilities of wearing and chipping.
These dental crowns take less time for installation as they can be cut and fixed at the same time.
Biocompatible – doesn't cause any allergies and side-effects.
They tend to last just as long as Porcelain crowns. Although studies have shown mixed results, they tend to last around 15 years without needing to be replaced.
Disadvantages:
Zirconia crowns are very hard which can make them susceptible to fractures and chipping. If this happens you will need to have the crown completely replaced.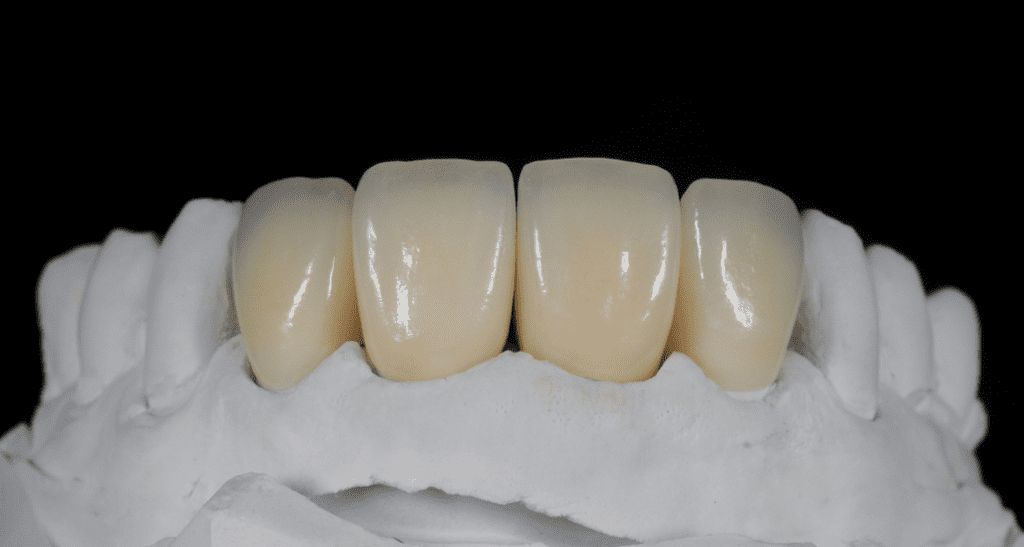 5. E- MAX Crowns
E-max crowns are another new type of all-ceramic dental crowns that are made from Lithium Disilicate. They are very light, thin and widely used by the people due to their aesthetic appeal.
Advantages:
They look almost similar to the natural teeth.
They offer great strength and are very durable.
They are ideal for front and back teeth restoration.
Disadvantages:
They are slightly more expensive than the other crowns.
May not be a good option for posterior teeth as they are more prone to fracturing.
They tend to need to be replaced every 5-10 years.
When Do You Need a Dental Crown?
Although there can be a number of reasons for getting a dental crown, here are the most common scenarios :
#1. When You Need a Root Canal
Dentists generally recommend a root canal when the tooth has decayed irreparably. Once the root canal is done, a crown can be installed to protect and restore the weakened tooth.
#2: For cosmetic reasons
You can go for crowns if your tooth is discolored or is in bad shape. The appearance of the tooth becomes much better after using a ceramic or a porcelain crown. Moreover, crowns can also be used to cover the tooth fillings.
#3: When Your Tooth is About to Break
Dental crowns are very useful for the people with cracked teeth. They protect the structure of the tooth and offer great relief from the pain caused by it. They also make the cracked tooth much stronger.
#4: Post Dental Implants
Crowns can also be used to replace the missing tooth. They cover the top of the implant and allow the patients to function normally. In such cases, dental crowns are used as a part of a permanent restoration.
How Long Do Dental Crowns Last?
The durability and life of the dental crown depends upon the material they are made from, the habits of patients and the expertise of the dentist who installed them. Taking into account these factors, dental crowns can last anywhere from 5 to 25 years. Typically, the metal and porcelain infused crowns last longer than the all-ceramic and all-porcelain crowns.
If you want your crowns to last longer, you should maintain proper oral hygiene. For this, brushing at least two times a day, flossing, regular dental checkup etc. are strongly recommended.
Moreover, some changes in the habits can also help in increasing the life of the crowns. These include avoiding very solid food items like nuts, candies, ice etc. This will prevent chipping and breaking of crowns.
Let's face it, dental crowns are not going to last for a lifetime but if you take good care of them and maintain proper oral hygiene then you can definitely expect them to last even more than twenty years.
How Much Do Dental Crowns Cost?
The price of dental crowns depends upon certain factors such as the material they are made from, fees of the dentist, and other added procedures.
Depending upon these factors, crowns can cost anywhere from $500 to $3500, or even more.
The cost also depends upon the fact that whether you have an insurance policy or not. If your insurance policy covers your dental treatment then a crown installation will not cost you much.
There are a number of low cost as well as high-cost solutions you can go for according to your budget. If you're looking for an affordable solution, then indirect resin crowns are perfect for you. They will cost you around $400-600. These are basically the restorations that are made by your dentists.
The main advantages of this low-cost solution, it is less time consuming and can be done in a single visit to the dentist. On the downside, they don't last for long. It is a budget-friendly solution which will only last for a shorter period of time.
So, the question is, what is the average cost of a dental crown?
The average price of different types of dental crowns used today is as follows :
Gold Crowns can cost anywhere from $600-$2,500
The average price of all-porcelain crowns ranges from $800-$3,000
Metal infused porcelain crowns can range from $500-$1,500.
E-max and Zirconia crowns are among the most expensive crowns. Their prices are similar or a little bit more than the all-porcelain crowns.
As we already mentioned, an insurance policy may help you to save some money. It may cover almost 50% of the cost. However, it varies from policy to policy. Most commonly, your policy will cover the cost of the crown as a preventative measure in the case you have undergone a root canal or something similar. If you are getting a crown for cosmetic reasons, then you're not likely to get the benefits from your insurance policy.
What Are The Possible Problems That Could Develop With Dental Crowns?
Similar to any other kind of medical treatment, dental crowns may also cause certain allergies. However, the good news is, these problems can be fixed easily if you take proper care.
Here are the common issues that may come up with crowns :
# Discomfort and Tooth Sensitivity
This is the most common issue with the dental crowns. The reason is very obvious, the procedure is usually done using anesthesia which makes the tooth sensitive. It is very likely for you to experience shocks on consuming hot and cold items. To prevent this, patients are recommended to use a specific toothbrush and toothpaste for the sensitive teeth.
# Chipping and Breaking
All porcelain crowns may start chipping and tearing in the worst case scenarios. If the chip is minor, the crown can be fixed using a composite resin. However, you will have to replace the entire crown if the chipping is major.
# Loosed crown
Many times the cement from the bottom of the crown gets washed away. This results in loosening of the crown and sometimes it also allows the bacteria to decay the tooth. The best idea is to contact your dentist as soon as you experience a loose crown.
# Crown May Fall Off
Sometimes the crowns can also fall off. This is due to the improper installation and lack of cementing. You can fix it using a dental adhesive or temporary cement after cleaning the crown and the tooth from which it fell off. After that, contact your dentist immediately to know about the further procedure. He may either re-install the crown or replace it altogether.
# Allergic reactions
The metal crowns are not biocompatible. They are usually made from a combination of few metals and thus can cause certain allergic reactions to the patients. But you don't need to worry much as these situations are very rare and can be treated easily.
# Dark Metal Lining
This usually happens with the metal-infused porcelain crowns. You may see a dark grey line forming near your gum line. This line is nothing but the metal of the crown that is showing through.
Do crowned teeth require extra care?
While crowned teeth require no special care, to increase the durability and life of your crown you should take care of it very well.
Furthermore, you have to protect your natural underlying teeth from decay and gum diseases. So, always maintain good oral hygiene by brushing and flossing your teeth at least twice a day and avoid eating hard foods.
That's about it.
Dental crowns are perhaps the easiest solution to restore your natural teeth. If you take proper care of your crowns, they will surely last for years.
Other Frequently Asked Questions
Can a dental crown last a lifetime?
Nothing in modern dentistry can last a lifetime. Dental crowns (also known as tooth caps) will tend to last around 10-15 years until they need to be replaced.
How long do dental crowns last on molars?
Since molars are the main chewing forces that we use in our mouth, these crowns tend to last a bit less than crowns that are placed on your front teeth. Most anterior crowns can last up to 15 years, while most crowns placed on molars will need to be replaced every 10 years.
Can you get decay under your dental crown?
Teeth can rot and decay underneath your crown. This tends to happen even with well-made crowns as bacteria can seep under the grooves of the cap and cause the tooth underneath to form caries. Although this does not happen to well made dental crowns very often, the possibility of it happening is still there. Make sure you see a reputable dentist to lessen your chance of this occurring.
What happens if you wait too long to get a crown?
There are a myriad of issues that can take place if your worn down teeth do not get a dental crown sooner rather than later:
The tooth can continue to wear down slowly.
The tooth may end up breaking and fracturing.
You may develop a dental infection.
Your adjacent teeth will begin to shift and move around.