If you've been experiencing soreness and pain at the back of your mouth, there is a high chance that you are suffering from pericoronitis. Pericoronitis is a common problem that affects 81% of people between the age of 20 and 29 whose wisdom teeth have not fully erupted. Here is what you need to know about pericoronitis pain.
What is Pericoronitis?
Pericoronitis is an inflammation of the gum tissue surrounding your wisdom tooth. When a wisdom tooth is developing, it pushes through the gum cutting through the soft tissues. If there is insufficient room in your mouth for the tooth to grow in, it may only partially break through the gum tissue. This leaves a flap of gum tissue covering part of the third molar (also known as your wisdom tooth).
This soft tissue, which is also known as an operculum, creates a pocket for food debris and plaque to accumulate. Since it is difficult to maintain proper hygiene around this area, the presence of food debris attracts bacteria that start causing tissue inflammation and infection. Soon, the tissue may start swelling, making it possible for the tooth above the area to bite down on the swollen gum, which exacerbates the problem.
Pericoronitis is more common in lower wisdom teeth than in the upper ones because of the lack of jaw space in your lower mandible.
Symptom and Signs of Pericoronitis
The symptoms of pericoronitis vary depending on whether the condition is chronic or acute.
Symptoms Of Chronic Pericoronitis
· Swelling of the gum
· Pain around the back teeth
· Redness of gum tissue
· Bad breath
· Tenderness around the third molars
· Difficulty chewing and swallowing
· Discharge of pus
· Bad taste in your mouth
Symptoms of Acute Pericoronitis
· Pain when swallowing
· Severe pain around the wisdom teeth
· Swelling of gum tissue
· Swollen lymph nodes under your chin
· Fever
· Trismus (difficulty opening your mouth)
Factors Increasing the Likelihood Of Pericoronitis
Because pericoronitis results from partially erupted wisdom teeth, people between the ages of 16 and 30 years are more likely to experience pericoronitis pain than other adults. Several factors increase the likelihood of pericoronitis, including:
· Pregnancy (increased gum tissue growth due to hormonal factors)
· Poor oral hygiene: While pericoronitis occurs even with the best oral hygiene, people with poor oral hygiene are more susceptible to pericoronitis than others.
· Emotion stress
· Upper respiratory tract infections
· Smaller jaw size making it impossible for your wisdom tooth to fully erupt
What happens if Pericoronitis is left untreated?
If left unattended, the soft tissue inflammation around the wisdom teeth can lead to an infection. This pocket of gum tissue will become a nidus for bacteria, and can lead to severe pain and further inflammation in the area. You may also experience difficulties in chewing and biting. Trismus may become severe making it difficult opening and closing your jaw.
In extreme cases, the infection can spread to other parts of the neck and head, causing a threatening complication called Ludwig's angina, which requires emergency treatment. The infection may also spread into the bloodstream, leading to a life-threatening complication called sepsis.
Diagnoses of Pericoronitis
Dentists usually diagnose pericoronitis during a clinical evaluation. The dentist will evaluate the area around your wisdom tooth and look for common signs and symptoms of pericoronitis. If your gum is red, inflamed, swollen, or draining pus, your dentist might request for x-ray images to rule out other dental problems. If diagnosed with pericoronitis, the dentist will recommend various treatment plans that are fully customized to meet your needs.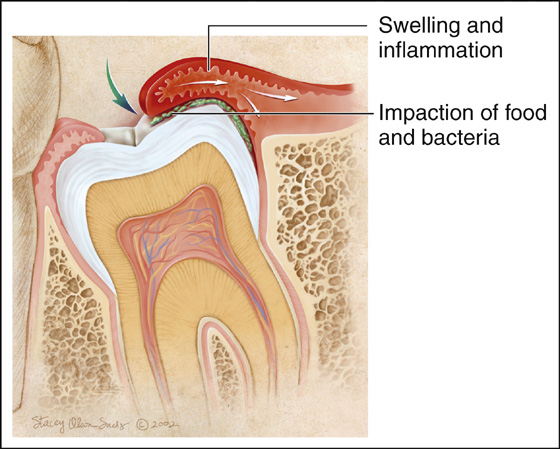 How Is Pericoronitis Treated?
Treatment options for pericoronitis include pain management, surgery, and wisdom tooth extraction. The choice of the treatment option depends on the condition and severity of the infection around your wisdom teeth.
i. Managing Pain
If the inflammation is minor and your wisdom tooth is almost erupting, a licensed dentist may recommend pain management medications such as acetaminophen (Tylenol) or ibuprofen (Advil).
Your dentist may also clean the affected area under local anesthesia and prescribe an oral rinse solution to curb further spread of the infection. Some of the common oral rinses include warm salt water, diluted hydrogen peroxide, or prescription based Chlorhexidine (also known as Peridex)
If the infection has spread and is causing fever and swelling, your dentist may prescribe antibiotics such as penicillin or erythromycin.
ii. Operculum Removal Surgery
If you wish to keep your third molars, your dentist may recommend minor oral surgery to remove the operculum. With the gum flap out of there, it makes it easier to clean hence preventing future infections.
iii. Wisdom Teeth Extraction
This is the most common treatment option, especially if the wisdom tooth is poorly positioned or is severely impacted. This treatment option eliminates any future occurrences of pericoronitis. Wisdom teeth extractions are also the #1 choice because the procedure prevents the chance of infection in the area.
What Is The Cost To Treat Pericoronitis?
To treat Pericoronitis, as mentioned, your dentist will either perform an operculum resection procedure, or recommend to have your wisdom tooth removed. To remove the tissue encasing the tooth expect to pay between $350-500. If your wisdom tooth has to be removed, your price range will be between $400-$600.
See Also: Wisdom Teeth Removal Cost
Common Home Remedies for Pericoronitis
Sometimes, mild pericoronitis can be treated at home by maintaining good oral hygiene. While home treatment options cannot substitute professional treatment plans, they can still be effective in curbing the chance of getting a dental infection in the area.
Common home remedies for pericoronitis include:
· Saltwater rinses
· Oral water irrigators
· Use of antimicrobial rinses such as Peridex
· Meticulous oral hygiene through regular flossing and brushing
· Use natural ingredients such as onions, icepacks, tea bags, olive oil, or ginger to kill bacteria and relieve pain
Will Antibiotics Cure Pericoronitis?
No, antibiotics are only used to treat spreading infections that lead to fever, malaise, and lymph node infections. The standard of care for pericoronitis treatment involves the removal of wisdom teeth.
Your dentist will only recommend antibiotics if there is a localized infection harboring in the inflamed area. If the tooth was to be removed at the height of a bacterial infection, it could potentially lead to further infections and delayed recovery.
Can I Prevent Pericoronitis?
Sometimes, pericoronitis occurs even with excellent care. However, there are common steps that you can take to reduce the chances of its occurrence. These include:
· Meticulous oral hygiene: Clean the soft tissues around the affected tooth to prevent food debris, plaque, and bacteria build-up.
· Regular visits to the dentist: You should visit your dentist at least twice a year to help identify signs and symptoms of pericoronitis can be identified and treated early.
· Taking pre-emptive action: You should make it a habit to contact your dentist whenever you have any concerns about pericoronitis developing.
Finding A Dentist To Treat My Pericoronitis
If you suspect that you have pericoronitis, it is recommended that you seek medical help from a licensed dentist. You can ask for referrals from your family doctor or seek recommendations from your nearest health facility.
Key Takeaways
Pericoronitis is a common dental problem that can lead to serious and life-threatening complications if left untreated. You should seek medical care and attention and the first signs of an infection before it gets out of hand.
If your wisdom teeth are just emerging, it is important to visit your dentist so you can get a professional assessment to know if pericoronitis is something you should anticipate. Regular visits to the dentist will lessen your chances of developing this condition.