How does oral hygiene affect your overall health? It's something that many dental offices find themselves answering daily (or at least almost daily). No longer is it a surprise that one can't help to wonder exactly how their oral hygiene plays a part when it comes to their overall health. To help shed some light on the current state of oral disease in today's world, here are some mind-evoking stats that we have dug up from the World Health Organization.
Oral diseases pose a major health burden for many countries and affect people throughout their lifetime, causing pain, discomfort, disfigurement, and even death.
These diseases share common risk factors with other major non-communicable diseases.
It is estimated that oral diseases affect nearly 3.5 billion people.
Now that you know how important good oral health is to maintain a healthier state overall, let's get into the matter a little further. Shall we?
Signs of Poor Oral Hygiene
Before we go any further into the subject of how the state of your oral health affects other aspects of your health as well, let's look at some ways that you can quickly identify poor oral hygiene. This way, you know when it's time to give your dentist a call and get in for a checkup.
Bleeding or Swollen Gums
In most cases, when your gums bleed or start swelling, it's a clear sign that something is irritating your gums and it could even be the sign of an infection starting to set it. If you find that your gums are bleeding or have become swollen, you will need to seek the help of a dentist. It is the only way to see where the true root of the issues lay so they can be alleviated.
Changes in How Your Tongue Looks or Feels
Many people find that cleaning the tongue when they brush their teeth at night can easily become an annoyance, but a tongue scraper can help turn things around. If your tongue starts to change in color or how it feels, there could be an underlying issue with your oral health. Should it persist after cleaning it, you will want to get in to see your dentist so that you can see what's up.
Growth Within the Mouth
A lump, sore, or other types of growth within your mouth could be a critical issue that needs to be addressed, especially if it's still there over multiple days. One of the biggest issues that it could be a sign of is oral cancer. Any type of growth within your mouth needs to be identified as soon as possible to ensure that it's not something serious, and if it is, it's addressed with proper treatment before it has a chance to get worse.
Gums Starting to Wear Away
When your gums start to wear away, your teeth can become recessed which leaves its roots exposed. This isn't ever a good thing. Most of the time, this occurs after years of neglect of one's oral hygiene routine. However, anytime that gums start to wear away should warrant a dental check to see what the state of your oral health is.
Toothaches
Any type of toothache is something that garners immediate attention, especially since it could be the result of a prosthetic dental device or even the deterioration of a tooth caused by tooth decay. Knowing what is causing the toothache and what must be done is key to ensure that the tooth is saved while it can be and ensuring a minimal number of dental issues.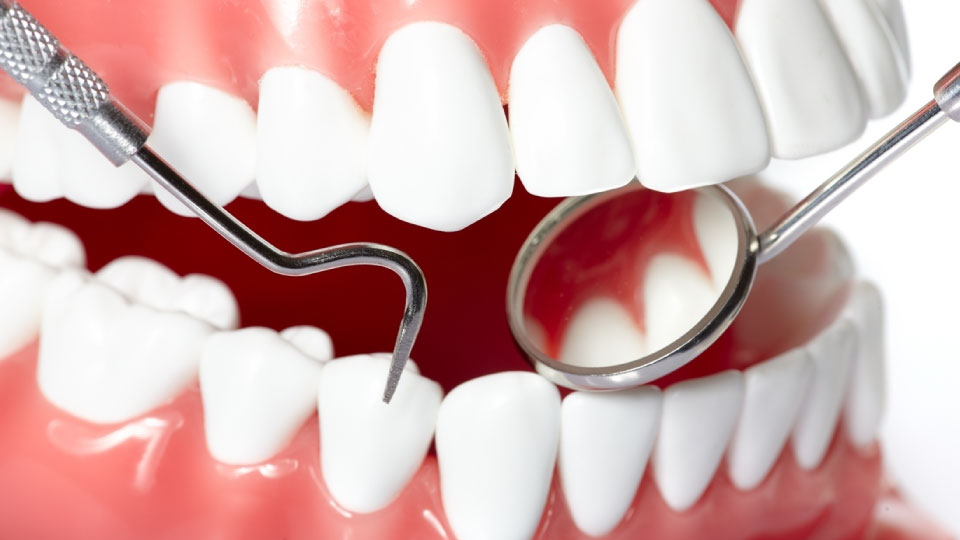 Health Issues Caused by Poor Oral Health
1. Arthritis
The National Rheumatoid Arthritis Society has reported that not only do those with rheumatoid arthritis have a higher chance of contracting gum disease, but those with gum disease can also be at a higher risk of contracting rheumatoid arthritis. Both conditions have elements that involve inflammation, but when a gum disease spreads throughout the body, it comes with a high chance that one can develop rheumatoid arthritis in the process.
2. Cancer
Those that have poor oral health are more likely to be the victim of cancers such as types of blood cancers, kidney cancer, or pancreatic cancer. The normal risk of oral-related cancers is still there, but these are the things it can lead to if the infection does enter your bloodstream. Those with a great state of oral health are at a much smaller risk of developing these types of cancers.
3. Complications with Pregnancy
Anytime that a woman is pregnant, her hormones change, and this increases the probability of getting an oral infection. Not only is it easier to develop an oral infection while pregnant, but for those who have given birth to a baby with low weight or where the birth had to be done prematurely, it's common for gingivitis and periodontitis to come to the surface.
Even if you're pregnant, it's important to keep an eye on your oral health, continue to see your dentist for regular checkups, and maintain a solid oral hygiene routine. Especially since it does put a woman at higher risk of being on the receiving end of dental issues than when she wasn't facing an upcoming addition to the family.
4. Dementia
Alzheimer's Disease and Dementia are two conditions known to be caused by the onset of gingivitis. It happens when bacteria entered the bloodstream and spread throughout one's body. Usually, this happens after the gingivitis has been untreated for a prolonged amount of time, but it can happen at any time.
5. Diabetes
An infection in one's gums is known for the past part of being more likely when they have diabetes, but gum disease can also make life harder for diabetics. The reason for this is that one's sugar levels are sporadic and hard to predict. When the sugar levels are off, this increases the likeliness of contracting a gum disease or simply an infection.
This is why it's more important for diabetics to pay attention closely to the current state of their oral health and implement a solid oral hygiene routine that they can stick with. Otherwise, the fluctuation in sugar levels can take its toll, thus making matters worse.
6. Heart Disease
The same kind of bacteria that causes gum disease has a chance of entering your bloodstream and hardening, causing plaque buildup. This has a chance of problems with the stream of your blood flow and even heart blockages. There are other conditions that it can cause with the heart, some of which can be fatal. This is why any part of gum disease needs to be treated in its earlier stages before it has a chance to affect other vital parts of your body such as your heart.
7. Respiratory Infections
Since the mouth is a main entry point of the body, it can not only be where an infection has the chance to enter one's bloodstream, but one can breathe it in as well causing it to enter their lungs which can cause a respiratory infection. Respiratory infections known to start from oral health issues include acute bronchitis, COPD, and pneumonia.
Want to embrace healthier teeth? Look at this!
There are only 3 steps that you need to take to ensure your oral health doesn't have a chance of harming the general state of your health. This includes:
Brushing and flossing your teeth regularly and following up with a fluoride rinse.
Watching what you eat and brush your teeth after eating foods high in sugar content.
Seeing your dentist for regular cleanings/checkups.
If you're in the Houston area and demand the finest care for your dental needs, look no further than an award-winning dentist that has been serving the community for almost 20 years. The place we speak of is none other than Best Dental which you can call at 281-762-0637. We deliver complete dental solutions to our patients, regardless of the complexity of their dental needs.