We put our molars through a lot, from chewing tougher foods to being exposed to situations where they can become damaged somehow else. This is why treatments for when a molar tooth breaks is one of the most common dental treatments that we provide our patients with. It is sure to have you wondering what to do if a molar tooth breaks, so we decided to explain it in-depth for you below.
Why did my molar break?
Our everyday lives put us at risk of damaging our molar teeth, whether it's clear to see or it's something that you have to think about first before you realize the scope of the situation. Since they're in the very back of one's mouth, they are also used for chewing things other teeth might not be able to handle.
There are a couple of different scopes when it comes to broken molars. Some boast a small amount of damage (such as a small crack) which is considered to be a cosmetic repair. Then some are broken enough to justify reaching out to an experienced dentist who offers affordable tooth extraction as it's more serious than molars with minimal damage.
Some of the most common causes of molar teeth breaking includes:
Biting into hard candy can cause your molar to either break or chip.
Chewing on ice could lead you to a cracked molar or other types of molar damage.
Grinding your teeth, whether knowingly or unknowingly.
Having a facial injury, whether it's from playing sports or something else.
Failure to treat cavities could weaken your molar(s) which means it will break easier.
For those who are fans of information, we also described some of the most common types of broken molars as reported by our patients who ended up at our office for molar tooth extraction in Houston.
A broken molar where no pain is being felt.
A broken molar with an exposed nerve.
A molar tooth has broken in half.
A cracked molar tooth that looks like a hairline fracture.
A molar tooth that became chipped for no reason.
A molar tooth that broke itself off at the gumline.
The molar tooth chipped itself while chewing.
No matter how minimal your tooth damage may be, always reach out to your local dentist of choice to ensure that you don't put yourself at risk of making it worse over time. The helpful eye of a dental professional can't be substituted, plus they'll act immediately on any dental care you need. It's simply the smartest way to ensure that you maintain solid oral health regardless of the situation you're in.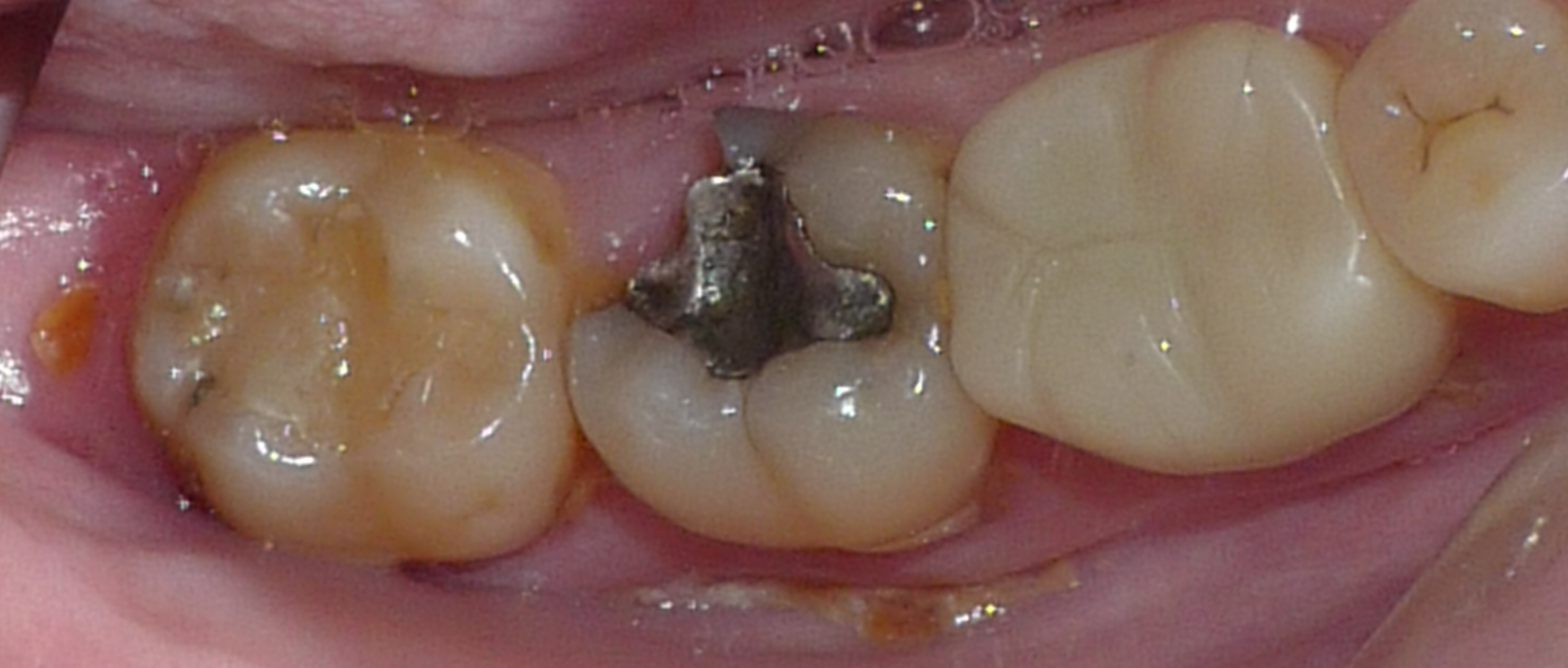 Is a broken molar tooth an emergency?
Many of our patients over the years have said that we're the best 24 Hour Emergency Dentist Houston has to offer. Plus they loved the fact that we focus on making things as affordable as possible while still providing the highest service quality in terms of patient care. We are a full-service dental practice that provides a wide range of cosmetic dentistry, emergency services, tooth extractions, and much more.
You probably want to know how to determine whether or not your broken molar is classified as a dental emergency that requires you to visit your dentist immediately, or if it's not that urgent and can wait until their office opens during their regular hours.
If the molar tooth is chipped or cracked and has you trying to deal with an extremely painful experience, you can safely say that it's a true dental emergency. Another thing that classifies the broken molar tooth as an emergency is if sharp pieces are left behind and damaging the inside of your mouth.
Is the molar just chipped and not painful? Maybe you just have a toothache. Either way, you can usually wait until the following business day when your dentist opens instead of having to pursue emergency tooth extraction in the awesome city of Houston.
How does a dentist fix a broken molar?
Broken Molar Tooth Extraction Procedure
This is often the last resort when no other options can help fix your broken molar. Your dentist will extract the tooth themselves while using a local anesthetic or another form of sedation dentistry dependent on your specific needs.  It's pretty straightforward, to say the least.
Dental Crown Treatment for Cracked Molar Restoration
If you still have some of your molar teeth intact and the damage hasn't spread to where it affects your overall oral health badly, dental crowns may be a great choice for you. Your dentist will shape the tooth after filling in the crack with a special material. Once it's got a solid base, your Houston surgical dentist will proceed with the placement of your dental crown.
Root Canal Procedure for Broken Molars That Are Also Damaged Inside
Your dentist will attempt to fix the root of the damaged molar tooth when the opportunity presents itself. If the root repair is unsuccessful, you'll be left to only being able to go through a broken molar tooth extraction procedure and have the tooth removed completely.
How much does it cost to fix a broken molar?
This depends on the form of treatment that's chosen to repair your broken molar, or if it just needs to be taken out. A simple extraction can run $125-$250 per tooth, but a surgical extraction can run anywhere from $175-$600 per tooth using general anesthesia.
For those who decide to go with a root canal, they can expect to pay around $1,000 give or take. While a dental crown for molar restoration runs $800-$1,500+ per crown that's needed. A lot of the time, dental insurance will help cover some of the cost of dental treatment for broken molars.
If you don't have insurance or your insurance company fails to approve coverage when it's time to get your broken molar situation fixed up, you can always finance dental work in Houston using either third-party lenders your dentist recommends or other cash accruing strategies of your own.
Is having a molar extraction painful?
Honestly, this where sedation dentistry in Houston tends to see the most action as removing damaged molar teeth could get uncomfortable a lot faster than it does when extracting other teeth. By taking on this approach to comfortable dental treatment, you won't feel a thing. Except for the normal soreness t that tends to surface briefly after going through the procedure of course.
Broken Molar Therapy in Houston, TX
Whether you need to receive emergency dental care for a broken molar, or you have other dental needs, we love meeting new people and would be grateful if you allowed us to get to know you while providing the best dental care within the Houston area. At a price that isn't going to force you to take out a second mortgage just to pay off. Simply call us at (281) 762-0637 and speak to one of our dental professionals who will get you in for treatment as soon as possible.