If you are in the Belliare, TX area, and are looking for a dental bridge, look no further than the experts at Best Dental.
When considering fixed tooth replacement options, dental bridges come to mind for a lot of people. Dental Bridges are very helpful and reliable if you have missing teeth. When that happens, your oral health is not in the ideal condition, and you can end up with all kinds of dental complications. The main focus is to prevent that with the use of Dental Bridges, and it can actually work to your own advantage if it is done properly by an expert dentist. Dental Bridges are designed to help you restore your missing teeth using your adjacent teeth as anchors. It can help you a lot if you have missing teeth, from cosmetics to function.
What are the benefits of Dental Bridges and when do you need them?
A Dental Bridge is needed if you want to chew and speak properly. When you are missing teeth, it can be very difficult to speak with other people, and that alone is becoming a chore more often than not. In addition, you also want to restore your smile. It can be difficult to smile with missing teeth. This helps you do that, and it eliminates many of the possible issues that can arise when you are actually missing teeth, so that's a thing to consider.
Types of Dental Bridges
The following is a list of the types of dental bridges that you will see mentioned by your doctor:
Traditional Dental Bridge: You have the traditional dental bridge that has false teeth held in place by crowns which were cemented on the abutment teeth.
Cantilever Dental Bridge:  These dental bridges are held by a dental crown cemented in a single tooth.
Maryland Bridges: Maryland dental bridges have two abutment teeth, but they have a framework that's bonded to the abutment teeth's back.
Implant supported dental bridges: These bridges apply the use of dental implants to place a false tooth where your missing tooth is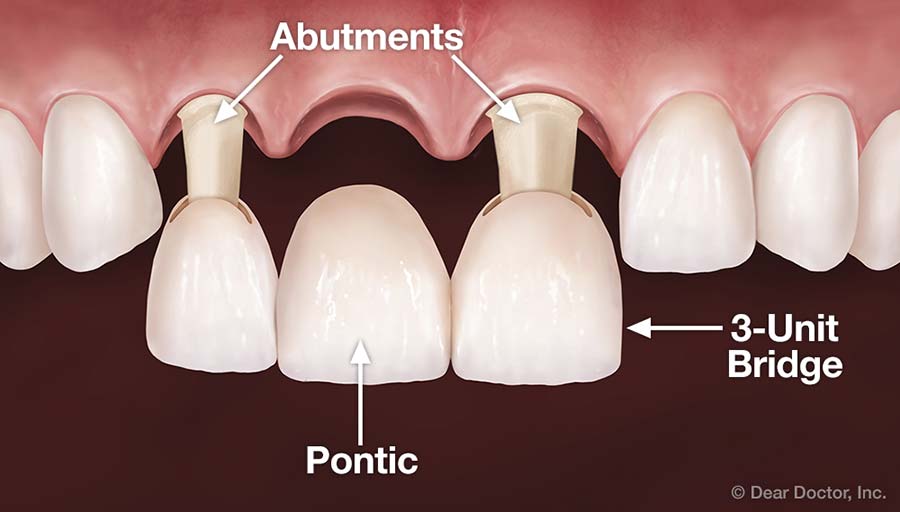 There are different considerations that the dentist will focus on when picking what options to go for, but with the right attention and focus it will certainly be worth it, and that's the most important aspect to take into consideration.
Are Dental Bridges safe?
Yes, the Dental Bridge is safe and it's designed to protect your current teeth while also eliminating any possible gum disease that can arise. It's a very safe procedure and there's no real need to worry about it. At the end of the day, it's one of the most important procedures that you can use to restore your smile and visual appeal.
How much will Dental Bridges cost Bellaire?
The variables that affect Dental Bridge pricing include where you live, additional treatments, placement difficulty, materials used and the amount of teeth needed to fill the gap. Traditional and cantilever bridges can be anywhere from $2000 to $5000. Maryland bridges will be half that price, usually $1500 to $2500. Then you have implant supported bridges, which are the most expensive at $5000 and up to $15000.
One thing is certain, with help from Dental Bridges you will have no problem getting the best look and enhancing your comfort while eating. This is a great way to boost your confidence levels naturally, all you have to do is to give it a try for yourself and results can be incredible thanks to that. Make sure that you give it a shot, talk with your dentist and this might be the right treatment for you!
Dental bridges have become the cornerstone in tooth replacement options for so many of our Bellaire residents. Let us help you with all your teeth replacement needs today!