Can I replace all of my teeth? It's a question that comes up frequently in dentistry, especially at our office since we're a full-service dental practice. From regular checkups and fundamental procedures to oral surgery, we provide our patients with the opportunity to have all their dental care handled in one place with the dental professionals they have come to know.
The short answer is yes; you can replace all your teeth. Full mouth reconstruction costs vary as it depends on the current state of your teeth and jaws, among other things that will be covered later in this guide. A moderate reconstruction can be as little as $15,000 and as high as $40,000. If the reconstruction is extensive, you can expect the price tag to be between $45,000 and $90,000.
What affects the price of full mouth reconstruction?
Many factors contribute to the overall cost of this dental procedure, which we have covered for you below. However, since this is an intensive type of cosmetic dentistry, the only way to get a solid ballpark estimate is to meet with your dentist for full mouth reconstruction treatment planning. This will ensure that you both can account for everything.
Let's look at what affects full mouth rehabilitation costs in most cases, shall we?
Exactly how will you be sedated during full mouth reconstruction?
There are many different types of sedation used by surgical dentists who specialize in fixing all your teeth through a comprehensive treatment plan. This includes nitrous oxide (also known as laughing gas), oral medication, and IV sedation.
Your sedation method impacts the cost, as it will be billed by considering how much was used to get you through the procedure for that day and for how long. While it might seem like this is an added cost, it can save you money in the long run by reducing the number of times you have to go to your dentist throughout reconstruction. This allows your dentist to complete more than just a single procedure in the same appointment.
How many times will you need to visit your dentist during treatment?
Certain things can be done the same day that you show up for your dental appointment, but it isn't uncommon for specific procedures to be conducted over multiple office visits. Every time that you meet with your dentist, the price increases.
Where does your dentist stand in terms of education, experience, and knowledge?
Like in any other profession, a restorative dentist with extensive experience, a high degree of dental training, and a high level of knowledge will have a higher rate. Of course, it does mean that you have to pay more, but your experience is sure to justify the higher price. Not to mention, it saves you from the chance of having complications resulting from treatment.
Here at Best Dental, we're staffed by Dr. Jasmine Naderi, who has extensive experience (nearly 20 years) performing a wide range of dental treatments. As a result, our patients also get to experience the power of modern dentistry to ensure the best results possible. While this positions us as one of Houston's most capable cosmetic dentistry practices, we still work hard to make sure we help those we serve to keep the costs down.
What procedures are required to produce the desired results?
If any issues need to be corrected before pursuing a full mouth reconstruction, this could add to your pay. A healthy foundation is critical to ensure lasting results and the safest treatment possible. Some of the common corrections seen in our office before undergoing reconstruction include bone grafting and periodontal treatment.
Which form of tooth restoration will you be looking to embrace?
The reason you need full mouth reconstruction has a lot to do with how the treatment will be done. There are many ways to embrace smile enhancement with this type of dental procedure when it comes to options. Here are the most popular ones.
Full Mouth Reconstruction Using Dental Crowns
If a single tooth has become damaged, dental crowns may be what your dentist recommends. First, the damaged tooth will be reshaped to where it can provide a strong base for support of the dental crown that will be placed soon. After that, an impression is taken to send to the lab creating it, and your dentist places a temporary crown to help you out in the meantime.
The average cost for a dental crown in Houston ranges from $800 to $1,700 per tooth, depending on the type of crown and the dentist you choose. As long as you don't have to replace many teeth, this can be the more feasible option for them all.
For patients suffering from a collapsed bite, a full mouth reconstruction may cost upward of $50,000. This is because every tooth in their mouth may need to be crowned in order to restore their bite to its proper orientation.
See Also: Cost of Dental Crowns
Full Mouth Reconstruction Using Dental Implants
This is the most popular way that our patients restore all of their teeth. This is mainly because dental implants have the most extended lifespan and best durability and can stop bone resorption from occurring over time.
The way dental plans are done is a lot more different than if you only needed to have a few teeth replaced. For example, instead of just using one dental implant per missing tooth, your dentist can place just four dental implants to the upper or lower arches of crowns.
How much is a full mouth of dental implants? As we have mentioned, each patient is different regarding their treatment plan. However, if you need both the top and bottom of your mouth to have a complete set of dental implants, this could come at anywhere from $7,000 to $68,000 in Houston, with the average cost at $25,000.
If you need the top or the bottom of your mouth restored with dental implants in Houston, the price is lower as it sits at $3,500 to $30,000. The average price of one set of dental implants (just the top or just the bottom) is $17,000.
There is one more option you can consider if you're trying to save as much money as you can on full mouth reconstruction. It's a type of porcelain implants called All on 4 dental implants, and the overall cost is only $25,000 to $35,000. Or you could even embrace same-day dental implants in Houston, but that still costs at least $30,000.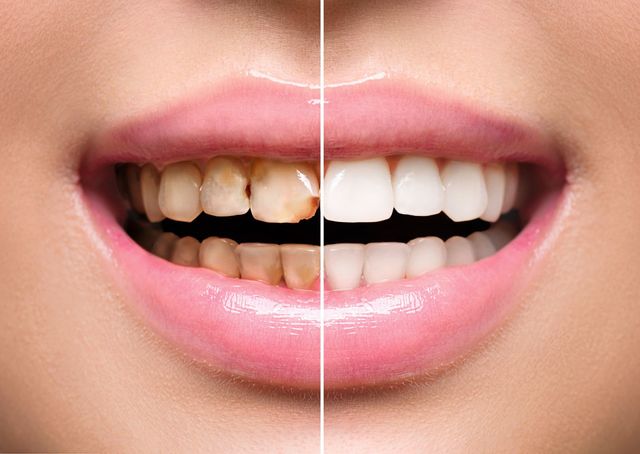 Full Mouth Reconstruction Using Dentures
This is the most common way for the budget-conscious patient to embrace having your entire mouth reconstructed with teeth that you can use. Of course, there are some drawbacks, such as being removable and coming out at the worst time, but that is to be expected when you take on the affordable approach.
In most cases, our patients have overcome these drawbacks because they're still able to embrace improved functionality and a better-looking smile. In addition, if only top dentures are needed, the chance of falling out is minimized thanks to the suction that they have to the upper part of your mouth.
The cost of a full mouth reconstruction using traditional dentures is $1,800. However, keep in mind that the price varies on the type of dentures you have chosen to go with. The lowest cost for a complete set of dentures sits between $600 and $1,000, while the cost of premium dentures can be between $4,000 and $8,000.
Sitting in the middle, you can find mid-level dentures of better quality than the cheapest but not as good as the best sitting at $1,000 to $3,000 for a complete set.
See Also: Cost of Dentures
Full Mouth Reconstruction Using Dental Bridges
Anytime there are gaps left due to teeth that are missing, dental bridges are an excellent option to consider. The crowns that sit on the ends mount over a tooth still there. The teeth in the middle sit there to help eliminate gapped teeth. If your dental issues aren't severe enough to warrant other options, this may be the way to go.
Traditional dental bridges can come at $2,000 to $5,000. A less affordable option is to go with a Maryland dental bridge, which is usually billed out at $1,500 to $2,500, depending on your dentist's charges.
See Also: Cost of Dental Bridges
Full Mouth Reconstruction Using Dental Veneers
If only your front teeth require a little assistance, porcelain dental veneers are a great option that covers your teeth to eliminate any cosmetic flaws. They can also be shaded to blend in seamlessly with your other teeth.
Dental veneers in Houston tend to range from $900 up to $2,500 per tooth that will need to have them placed. So it is more costly than some other options, but it is a lot quicker and provides results for the money.
See Also: Dental Veneers Cost
Let's talk about full mouth reconstruction in Houston at the best price!
Give our office a call at (281) 762-0637 to put you on the calendar for full mouth reconstruction treatment planning or any other dental treatment that you may need. We're ready to help you see what the best approach is and how we can help make the treatment as affordable as we can make it. Alternatively, you can send a contact request via the secure form on our website. If you have any further inquiries about full mouth reconstruction costs, please contact out Houston office today!