A root canal is used to help save a tooth before it's too late.  A lot of the time, the center of the tooth (pulp) becomes infected. Sometimes the nerve is even affected. To combat this, a root canal specialist will remove the pulp of the tooth as well as the nerve to cleanse it. It is then put back and sealed to prevent an infection from becoming an ongoing issue.
We covered the top signs of needing a root canal on this page, but if you're confident that you need to have one done, it's best to be aware of the financial requirements and the different payment plans for root canals that are currently available.
How much does a root canal cost?
On average, root canals usually cost around $1,000 but can be as little as $500 and as much as $1,200+. It depends on which tooth needs the root canal, and how difficult the procedure is going to be for your root canal specialist. It also depends on your dental insurance and other savings embraced when getting a root canal. The cost usually covers appropriate sedatives, dental checkups, and x-rays.
See Also: Root Canal Costs
Can root canal therapy be postponed?
This is something we highly advise you not to do, as a root canal is often needed due to infection becoming present inside of your tooth. Dental infections are known to spread to other areas and cause further complications. Not only to other teeth but your body as well.
Some of the most common results of putting a root canal off are other teeth becoming infected, an extraction being required, a dental crown or dental implant becoming needed to replace the tooth you didn't act on in time to save. All these become more costly than if you were to have a root canal done in the first place when it was recommended by your dentist.
Will dental insurance cover root canals?
This ultimately depends on the type of dental coverage you have, but we have seen insurance companies pay for up to 100% of root canal costs with our patients. You will have to get with your insurance company directly for a solid answer.
This is only after the deductible has been met, which is how much you must pay out-of-pocket each year before the insurance kicks in. If the overall cost of your root canal falls below the deductible amount, it won't cover any of the costs and you will be expected to foot the entire bill on your own.
If the latter becomes the case, don't worry as it's something we run into quite a bit as a leading dental provider in Houston. We'll break down your other options next, based upon what our patients have done in the past when they needed help paying for a root canal procedure.
How can you save money on a root canal?
Not only is finding an affordable root canal specialist a task of its own, saving as much as possible on the procedure is too. A dental savings plan (also known as a DSP) can often save you a significant amount of money if you enroll in one which is usually provided by dentists to help their patients save the most on all dental procedures.
It works by paying an annual membership fee to get signed up with the DSP and then saving a set amount of money on any procedures they have during that year. Other options are available where you can save for extensive dental treatments you may need in the future.
Other Root Canal Financing Opportunities
If you require help that your dental insurance hasn't provided you with, there are a few different ways to get payment plans for root canals. Some of these are to:
·         Consider In-House Dental Financing
This could either be provided directly by your root canal specialist or through a third-party lender such as CareCredit (who specializes in financing dental care). How it works is a certain number of monthly payments will pay off the cost of your dental loan. Sometimes you might have to make a down payment, but for those who have decent credit, this isn't usually an issue.
·         Have a low-interest credit card?
If so, you have a way to pay for your root canal if you have an available line of credit that will cover it. Even if you don't have one, you can get approved for one fairly quickly. A majority of dental offices accept most types of credit cards for root canals.
·         Use Your Health Savings Account
While many don't know that it's possible, it is possible to use your health savings account to pay for dental procedures such as a root canal. This not only presents you with a way to pay for root canal therapy, but it helps with tax savings too since the amount you put in isn't taxed. We think this is a prime example of how planning ahead pays off when you need dental treatment.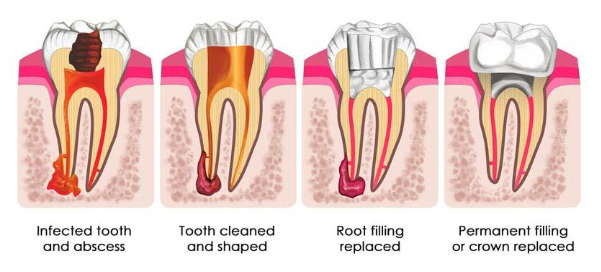 Need a root canal in Houston that's financed? Call us!
If you need a root canal specialist in Houston to help alleviate your dental pains, look no further than our office (Best Dental) as we aim to provide you the best price as well as an elite level of dental care that's hard to come by in the dental industry. We will help you figure out how to pay for it and let you know the different options for treatment you have available.
Our office can be reached at 281-762-0637 or online through our secure contact form, which can be found on our "Contact Us" page. Either way, we'll provide you with a custom-tailored plan and get you in to see a root canal specialist as soon as possible.