If you are looking for affordable wisdom teeth removal in the Katy, TX area look no further than our expert surgical team at Best Dental.
Wisdom teeth, also known as third molars, are teeth that usually fully develop during your teenage years. Since they are the last teeth to fully mature and develop they are affectionately called "wisdom" teeth.
We get so many questions asked about Wisdom Teeth over at Best Dental. Below are some of the commonly asked questions, and their answers. If you any further questions or concerns in regards to Wisdom Teeth, please feel free to reach out to our dental office serving Katy, TX. Remember our dental exams are complimentary.
HOW ARE WISDOM TEETH REMOVED?
When your oral surgeon or dentist is removing your wisdom teeth there are a series of steps that he or she will follow. Let's go over the procedure now:
Local anesthesia (usually Lidocaine) is given to numb the wisdom tooth or teeth.
Sedation dentistry methods (including IV Sedation) may be used if you have a high degree of dental anxiety.
If the teeth are impacted (embedded inside your jawbone), your gum tissue is reflected back to expose the tooth structure.
Dental Instruments and a dental drill are used to section the teeth to create space to lift the teeth out of their respective sockets
After the entire teeth are removed, the sockets are cleansed with normal saline.
The gum tissue is sutured together with a gut suture which will dissolve on there own.
HOW MUCH DOES IT COST TO REMOVE YOUR WISDOM TEETH IN KATY, TX?
The cost of a wisdom tooth extraction will depend on a few factors:
The treating oral surgeon who will be removing your tooth. Some clinicians are more expensive based on their experience.
The deeper the teeth are embedded in your jawbone (deeper impactions) tend to be more expensive to remove.
If you have dental insurance, the cost of removing your wisdom teeth will be less than if you are paying out of pocket.
Whether you decide for sedation options. IV Sedation will increase the cost of your surgery.
In general, the average cost to remove your wisdom teeth in Katy will be $2,500. This includes IV Sedation as well.
Our flat fee to remove all four impacted wisdom teeth under sedation is only $1,400!
HOW LONG DOES IT TAKE TO HEAL AFTER WISDOM TEETH REMOVAL?
The average time for complete healing after your surgery will take place around 8 weeks. The majority of the healing will take place in the first two weeks. During the initial phase of the healing process pain, swelling, and discomfort will all be normal symptoms.
HOW LONG DOES IT TAKE FOR MY HOLES TO CLOSE?
After your wisdom teeth are removed, it will take around 6 weeks for your sockets to completely close up. This process of healing and closure is called secondary intention, and it is the primary mechanism of wound closure after a dental extraction.
WILL I HAVE PAIN AFTER MY WISDOM TEETH ARE REMOVED?
Pain after wisdom teeth removal is a common symptom. The discomfort usually can last up to two weeks with the majority of the pain noticed a few days after your procedure. Pain medication will be given to mediate your discomfort as you are healing.
AT WHAT AGE SHOULD WISDOM TEETH BE REMOVED?
The best time to normally remove your wisdom teeth is during your teenage years. This is because your third molars have not fully developed, and it allows your surgeon to more easily remove the teeth. Younger people tend to heal faster as well making the recovery process simpler.
WHEN DO WISDOM TEETH NORMALLY ERUPT OR COME IN?
You will notice your wisdom teeth begin to erupt around the age of 15. Most wisdom teeth will not completely erupt; these are known as impacted wisdom teeth and they can cause a myriad of dental health issues.
DO ICE PACKS HELP WITH THE HEALING PROCESS?
Ice packs do a wonderful job at minimizing swelling during the first 24 hours after your surgery. Starting on day two, warm compresses are recommended instead of an ice pack to control the rest of the inflammation that is noted during the first week.
WHEN WILL MY STITCHES COME OUT?
After your procedure, your dental surgeon will place sutures to close the wounds. Most times they will use a stitch that will be dissolvable in nature (known as gut sutures). They take around ten days to completely dissolve.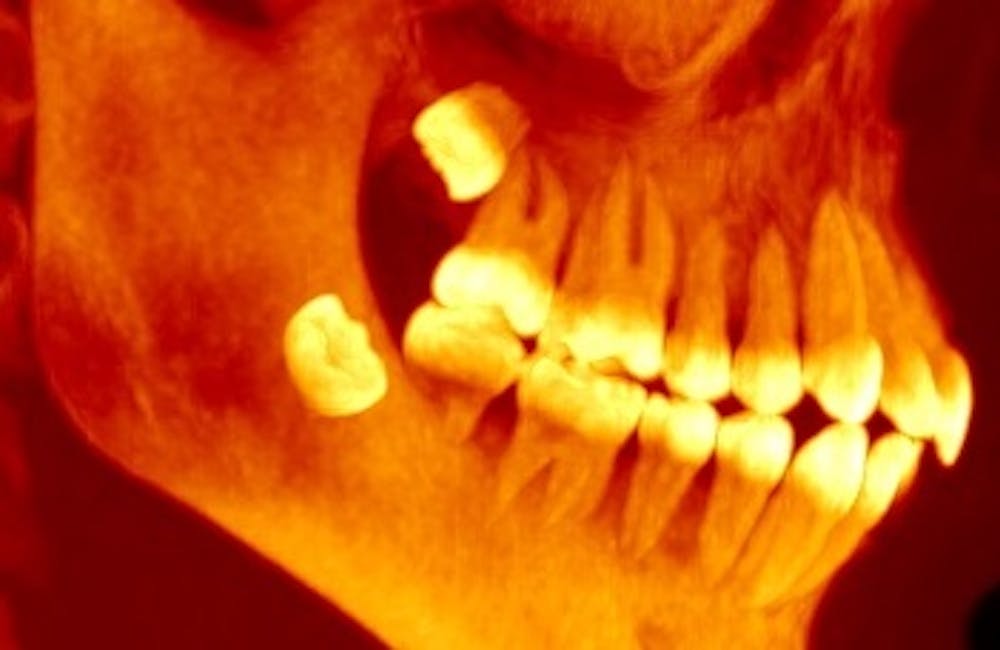 ARE WISDOM TEETH COMMON?
Most people develop wisdom teeth some time during their life. A lot of times they erupt into the mouth, while sometimes the remain inside your jawbone and are considered to be "impacted."
ARE WISDOM TEETH ALSO KNOWN AS THIRD MOLARS?
Yes they are. Third molars are another name for wisdom teeth, whether they are erupted or impacted.
ARE WISDOM TEETH USELESS LIKE YOUR APPENDIX?
In most cases, wisdom teeth are non-functional, meaning they don't actively participate in any meaningful action inside the mouth.
Some people's wisdom teeth fully erupts into their mouths, and function just like the rest of their teeth do. At Best Dental, we recommend these patients to keep their wisdom teeth, and make sure they take care of them to prevent any cavity formation in the future.
ARE WISDOM TEETH GENETIC?
They certainly can be. Some people do not develop them at all. These people, however, are the minority. Most people do develop wisdom teeth at some point in their life.
CAN WISDOM TEETH CAUSE EAR PAIN?
They can. It is usually the lower third molars that can cause pain to radiate to the ears. In these cases it will be recommend by Dr. Jasmine and her Oral Surgeon to remove your third molars, whether they are erupted or impacted.
WHEN DO WISDOM TEETH NORMALLY COME IN OR ERUPT?
Sometimes they don't erupt and stay impacted and embedded in your jawbones. If they do erupt you will usually notice them around the age range of 14-20.
CAN WISDOM TEETH CAUSE HEADACHES?
If wisdom teeth is a source of pain and stress, it can certainly lead to a headache as your muscles will be stressed during your time of discomfort. There is no correlation between dormant and healthy wisdom teeth, and headaches.
CAN WISDOM TEETH CAUSE BAD BREATH?
If wisdom teeth decay or form any sort of infection, they can certainly form a foul odor. This is also known as halitosis. Bad breath from wisdom teeth is a common occurrence, so contact us right away if you are noticing a foul odor inside your mouth.

CAN WISDOM TEETH CAUSE A SORE THROAT?
Infected lower third molars can certainly cause a sore throat in the infection has spread to the back of the mouth. Wisdom teeth removal will be a priority to remove the source of the problem in these cases.
If you are in the Katy, TX area and are needing an oral surgery team to remove your wisdom teeth look no further than Best Dental.