Invisalign, also referred to as invisible braces, has been around since 1997 and developed various teeth straightening packages to suit a wide variety of people. They have spent so much time refining their product, that many find it to be a lot better than getting traditional metal braces.
With these clear aligners, you can embrace a more youthful look and promote the healthy placement of your teeth without all of the hassle of other teeth straightening procedures. This guide will cover how the cost is determined, how much you can expect to pay for Invisalign, and what makes it stand out from all of the other dental treatments that are available today.
How much does Invisalign cost?
Average Cost Of Invisalign
| Type of Invisalign Treatment | Average cost | Price Range | Our Price |
| --- | --- | --- | --- |
| Traditional Invisalign | $6,000 | $4,500-$7,500 | $4,500 |
| Invisalign Teen | $4,500 | $2,999-$5,500 | $3,500 |
| Invisalign Express | $3,500 | $2,500-$4,500 | $2,495 |
Expect to pay a little bit more for Invisalign than you would for traditional braces, as the average cost for Invisalign sits in the range of $2,500 all the way up to $8,000. How much it will ultimately cost you depends on things such as how long the treatment will need to last for, the severity of your dental issues, and how many aligners will be needed to successfully see the treatment through to completion.
Keep in mind that since Invisalign has been around since 1997, they have worked hard to gain acceptance within the world of dentistry. This means that your insurance company might help pay for Invisalign just as they would for traditional braces. For those who think that the price might prevent them from getting Invisalign, we've covered some of the top payment options for you in this guide.
The cost of Invisalign in comparison to braces isn't a significantly higher amount, so the added benefits (such as being able to take it out and brush your teeth) that this option can provide you with might be worth paying a premium price for. This is something that you should definitely consult with your dentist about before making a final decision, just to make sure that it's within your best interest.
Below, we have covered the top 3 Invisalign options as well as the cost that is associated with each one so that you can get a better idea on what kind of financial commitment could be required. There are other options (such as Invisalign Assist) that are available, but these are the most popular routes.

· Invisalign Full
The cost of Invisalign Full sits at an average of around $5,000.
For even the more complex cases, the Invisalign Full treatment is able to deliver results without any holding back. It's actually the most popular type of Invisalign treatment that's embraced by dental patients today.
Throughout the course of the treatment, there will be numerous office visits as well as several aligners that will be used to obtain the desired results. An unlimited number of trays is made available when this route is taken to provide the opportunity for each phase to be gradual.
As far as making sure that you get what you pay for, this is done by including refinement in the initial cost. This simply means that you will be allowed to make the necessary amount of dental appointment to check in with your dentist and make sure that progress is actually being made.
· Invisalign Teen
The cost of Invisalign Teen sits at an average of around $3,000.
While teenagers may be the primary target for this Invisalign treatment option, young adults are also able to benefit from this package. It's designed to provide patients with the opportunity to guide root growth and controlling the shifting of teeth as they grow into place.
This works by providing the patient with a clear aligner for the top teeth as well as the bottom teeth that are custom-made to their specific needs. New aligners will be provided every 2 weeks, and a checkup is only needed within 6-10 weeks except in more severe cases.
Just like with Invisalign Full, you will get an unlimited set of aligners for the course of your treatment. One more thing is that teens are known to misplace their aligners or damage them, which is why on top of the needed aligners, up to 6 complimentary aligners are provided at no extra charge to you.
See Also: Invisalign Teen
· Invisalign Express
The cost of Invisalign Express sits at an average of around $2,500.
Think of this as the more affordable and lightweight version of Invisalign treatment that is only for those who have simple issues that can be dealt with in a minimal number of visits. If you have slight overcrowding or tooth spacing issues, this could be the route to take.
However, if there are major issues, you might find yourself to be disappointed. In fact, this is why many have posted negative reviews online in regard to Invisalign Express. They thought that they could get away with going the cheaper route, only to find out that their case required more extensive treatment than what this option has to offer.
You get 10 aligners with Invisalign Express, and there are no options for refinement to be covered since this is the most basic form of Invisalign treatment available. If you require more aligners or services than the package covers, you can expect to have to pay for this out of your own pocket as in most cases your insurance company won't cover it if they covered you initially.
How the Cost of Invisalign Orthodontics Breaks Down
With Invisalign packages, there are several factors that come into play when it comes to determining how much it will cost. From the extensiveness of the treatment to the appointments that are required, all costs are usually factored in from the beginning. Below, you'll see the various aspects of Invisalign treatment that affect the overall cost of this dental procedure.
· Your Initial Invisalign Consultation
This is where the plan for success starts to become crafted as you sit down with your dentist to discuss how things are going to go. Make sure that you schedule an appointment with an Invisalign provider, as not all dentists offer this type of treatment when it comes to getting invisible braces. Our office is one of the leading Invisalign providers in the Houston area.
Any questions or concerns can be addressed during your initial visit. Your dentist will also go over the costs, length of treatment, and much more to ensure that the decision you make is truly an educated one. You will also discover which Invisalign package is the best choice.
· Getting a Panoramic View of Your Mouth
Using a panoramic x-ray, your dentist can get an entire view or your mouth and bone structure in one image. By doing this, a predictable outcome can come to the surface and it can be used to start a solid plan for your Invisalign treatment. Usually, this is covered in the cost for Invisalign but if it isn't your dentist will let you know.
This procedure will only last for about 30 seconds while your chin, mouth, and face is positioned to ensure the best outcome when the image is taken. The machine itself will move in a semi-circle around your head to get a close-up of your teeth, mouth structure, and bone structure.
· Lateral Cephalogram (Lateral Ceph)
This is used to assess the nature of your bite. By using this method, your dentist can make sure that the approach that's taken with Invisalign is one that's truly going to help improve your bite on top of improving the appearance of your smile.
Simply put, this is a type of x-ray that is commonly used to get a close-up of certain teeth or certain parts of your mouth. Your jaw will be relaxed while this process is performed within the dental office.
· Getting an Impression of Your Mouth to Work From
This is also included in the initial cost of the Invisalign package that you choose, and it's a straightforward procedure that is very common in dental offices today. Your dentist will use a putty that's placed in your mouth and pressed against your teeth.
When it hardens, an impression will form which can be sent off to an Invisalign laboratory so that your aligners can be made. This ensures that the fit is the best that it can be while correcting any issues that are going to be targeted during your treatment.
Once the laboratory makes your aligner, they'll send it back to your dentist at which time you'll be able to pick it up and put it to use. The impression directly resembles your teeth and gums which also provides you with the most comfortable experience possible.
· The Invisalign Refinement Process
The truth about the world of dentistry is that even the most experienced dentists can't truly predict the outcome perfectly, each and every time. Each situation is different and there are a lot of factors that come into play that could have an impact on the end result.
With Invisalign, it's no different. While you will receive instructions from your dentist about how to ensure the best outcome possible, there is always the chance that things won't turn out to be exactly as they were expected in the beginning. This is where the Invisalign refinement process comes into play to make the necessary corrections.
At the end of your initial treatment, it might be recommended that you embrace refinement to help minimize the risk of failure. With Invisalign Full, this is usually included in the package to ensure that it doesn't cost you even more in the long run. By keeping the possibility of refinement when you make your initial treatment selection, you can ensure that no unexpected surprises can come to the surface and prevent successful treatment.
When you have to go through the Invisalign refinement process, you'll end up completing the entire process again. This means that you will have a new treatment plan developed, have additional scans of your mouth done, and receive additional Invisalign trays. Expect this to add 3 more months on the timeframe of your Invisalign treatment.
· Using Vivera Retainers to Make the Results Last
To keep your teeth from moving back to where your Invisalign treatment moved them to, retainers will need to be worn in order to keep the new alignment. The length that you will have to wear a retainer will be determined directly by your dentist. However, most cases require them to be worn for a total of 22 hours daily for the first few weeks and only at night thereafter.
While there are all kinds of retainer brands on the market, Invisalign does have its own brand which is said to be much higher quality than its competitors. Not to mention, they all come with an extra set to ensure that you don't have to order a new one if yours becomes misplaced.
As for whether or not this is included in your Invisalign package, it usually isn't. Your insurance company might have to pay for it, but bring this up during your initial consultation to make sure that if you have to pay for it, that you have time to save up for the expense.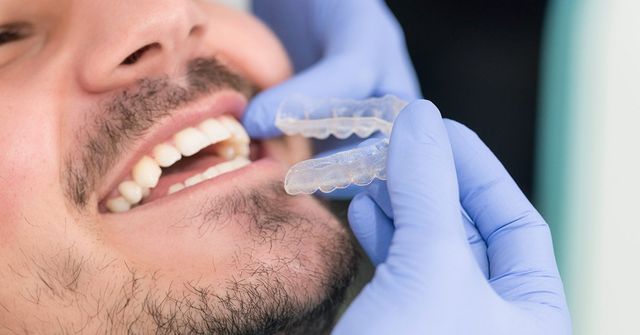 The Advantages of Invisalign Treatment
The only way to tell if Invisalign produces the best experience for dental patients today is to see exactly what it has to bring to the table. After performing countless Invisalign treatments, here are the top benefits among our patients here in our Houston dental office.
· Brushing your teeth is a lot easier than it is with other options.
All you have to do in order to brush or floss your teeth while using Invisalign is to take out the aligner and brush/floss as you normally would. While this may seem to be common knowledge, you'd be surprised how many people ruin their results by not brushing/flossing.
Just as it's important for you to have a straighter smile, it's just as important to protect your teeth in any way possible during the treatment. There's simply no way around it.
· Don't worry about having to restrict your diet in any way.
If you didn't know, those with traditional braces have to avoid certain food and drinks in order to prevent any setbacks from happening. The most common foods to be avoided with traditional braces includes, but shall not be limited to apples, bagels, candy, corn on the cob, gum, and popcorn.
With Invisalign, there are no foods to avoid as the aligner is removable. Just remove it when you're drinking (anything besides water that is) or eating. Once finished, brush your teeth before putting your Invisalign aligner back into your mouth. It's that easy and you don't have to forego the foods that you love just because you're trying to straighten your teeth.
· Embrace the opportunity to straighten your teeth in fewer appointments.
Not to mention, Invisalign appointments usually run about 10 minutes or less in comparison to the 30-45 minutes that appointments for those with braces normally run. You don't have to worry about the inconvenient repairs or frequent visits to the dentist that are common when you go with the route or traditional metal braces.
This ultimately that you get to save your sick days for when they're really needed and spend your time doing the things that you enjoy the most. With Invisalign, checkups usually run about 10-12 weeks in most cases unless there is a need for shorter intervals. As far as replacement aligners are concerned, you can just usually swing by your dentist's office to pick them up.
· Minimize the discomfort and irritation associated with other procedures.
This is the most common when wearing braces, as your cheeks have to get used to wearing braces and this could lead to being sore. With Invisalign, there is no need to worry about being uncomfortable as the fit is designed to feel as natural as possible.
· Say goodbye to those ugly metal pieces in your mouth, and hello to invisibility.
Braces can be an eyesore, but getting your teeth aligned shouldn't mean that you have to sacrifice your smile in the process. With Invisalign, the aligner is nearly visible and has been known as being a top choice among celebrities trying to embrace a better smile.
In pictures, it's almost impossible to notice whether or not you have Invisalign in. Just make sure that you brush your teeth regularly to ensure that your white teeth shine like a diamond.
The Disadvantages of Invisalign Treatment
Of course, just like with anything else, there are some drawbacks associated with Invisalign. However, when you weigh them in against the many benefits, it's clear that this is the best solution for invisible braces available, just as it has been for many years.
· A little bit of time will be needed to learn to speak with Invisalign.
Just like with any other type of dental device, you will have to learn how to speak clearly with Invisalign, but the learning curve is minimal. The best way that patients learn to overcome this is usually by practicing conversations as soon as they get their Invisalign treatment.
· Results vary, and in certain instances, invisible braces may not be an option.
Anytime that teeth experience severe crowding, there is a chance that treatment options could be limited. In the most severe cases, braces may be the only option so make sure that you talk with your dentist about whether Invisalign will help fix your dental issues.
· You must show effort, and use it as directed for Invisalign to be successful.
Of course, you should expect this with any type of dental treatment, as you're directly responsible for how long the results last as well as how successful the treatment actually is. You will be required to take the aligner out for meals and when having a drink (except for water).
The reason for this is that things can get stuck to your aligner rather easily, which could not only damage it but be less appealing to the eye than if you were to keep it clear just like it was originally intended.
Will my insurance company help pay for Invisalign?
This treatment is usually considered to be the same as getting braces, classifying it as an orthodontics procedure. One of the biggest factors is whether teeth alignment is medically necessary. This is the case when it's used as a way to correct a problem with your jaw or mouth or if it hinders your ability to eat comfortably/speak clearly.
If it's not medically necessary, this doesn't mean that you have to be concerned. Since most insurance companies will usually cover a percentage (or amount that comes with a lifetime limit), you can still use your dental insurance to make the process of getting Invisalign a lot more affordable. You can find more information about this by reading the guidelines provided to you by your insurance company.
If you don't have insurance that covers dental procedures like braces or Invisalign, there are still many other options that are available to help make it as easy as possible to get access to the dental care you deserve. Continue reading to learn more about them.
Third Party Financing as An Alternative to Pay for Invisalign
Many dental providers will have a portfolio of financing companies that they can use for their patients to get their Invisalign treatment financed instead of having to pay for it all upfront. The two most popular options are CareCredit and Lending Club, which we make available to all our patients here in our Houston, Texas dental office.
If neither of those two options is the best for you, there are many other lenders that you can choose from to cover the cost of your Invisalign treatment. While not as popular as the first two options we mentioned, many of our clients resort to using the credit cards in the office to pay for the procedure.
During the initial visit with your dentist, insurance coverage and financing is usually discussed so that you're not going to be left in the dark about how you're going to pay for the quest to straighten teeth.
Getting Invisalign By Making Monthly Payments
There are some cases where your dentist may have an in-house financing option available where they directly back the cost of Invisalign by breaking down the payments for your Invisalign treatment into different stages of your treatment. Keep in mind that every dentist will have their specific requirements if this is something that they have to offer their patients.
One of the most common requirements is that you must provide your dentist with an initial down payment before treatment starts. This helps them cover the costs of getting the supplies needed for your treatment and ensure that this is something that you're truly going to be financially vested in.
Using a Dental Savings Plan & Putting Tax-Free Dollars to Work
This is one of the biggest ways to fund your dental needs and avoiding the hassle of being taxed to death before you have a chance to fund your medical and dental needs. Below you'll see some of the most popular options embraced by our patients who take advantage of tax deductions while saving money on the overall cost of their dental treatment(s).
· Dental Discount Memberships
A good example of a dental discount membership is our dental savings plan, which covers 2 checkups per year automatically with the annual fee payment of $200. Aside from the cleanings, office visits, and x-rays, you receive an additional 15% off your other dental services.
This option is a popular alternative when one doesn't have dental insurance but still wants to get access to the dental care they need in the most affordable way possible. If you need more information on a dental savings plan in Houston, reach out to our office today.
· Flexible Savings Account
Those who have a high-deductible insurance plan may find the need to make sure that the high deductible doesn't prevent them from getting the care that they need. Hence why the flexible savings account was born.
By setting aside up to $3,400 as a single adult, or up to $6,750 for an entire family annually, you can tax advantage of tax benefits, as well as this special type of savings, account specifically for your dental and medical needs.
Keep in mind that an FSA isn't for everyone, and the Internal Revenue Service has a set of eligibility guidelines that must be met. Invisalign is a procedure that can be covered with a flexible savings account.
· Health Savings Account
As another way to embrace tax benefits and get the dental treatment you need, a health savings account allows you to invest in dental care, medical care, and orthodontics. Directly managed by your employer, it is an account where deductions are made from your paycheck to be put into your account throughout the entire year.
There is a limit of $2,600 per year that you are allowed to put into your health savings account, and this is something that is optional for your employer to offer. All contributions to this account (up to the limit) are tax-deductible.
Frequently Asked Questions About Invisalign
We pride ourselves upon being one of the leading Invisalign providers in the Houston Metro, which has come with many great patients. A lot of the time some of the questions come up quite more than others, and in order to help solve them beforehand, we covered them for you below.
Are braces cheaper than Invisalign?
For those with just a few teeth that need to be corrected, braces can offer a much more affordable price point than Invisalign is able to. However, any more and you'll find that Invisalign can be the most affordable route for you to take.
Not to mention, braces do require more appointments and have a higher chance of needing repair than Invisalign does. This in itself has proven to provide our patients with the most cost-effective solutions without having to take the risk of any headaches coming their way.
Can I eat with Invisalign in?
No, as this could damage your invisible braces and require you to replace it with a new aligner. Just take Invisalign out in order to eat or if you have to drink anything besides water. This will help ensure the longevity of your aligner, and it will provide you with a chance to brush your teeth afterward.
Can Invisalign be worn while playing sports?
Any type of contact sports should be approached with caution, and you'll want to take your Invisalign aligner out to replace it with a mouth-guard. Since mouth-guards are specifically made to protect your teeth during contact sports, it's always the safest option.
Invisalign is great to wear in order to straighten your teeth out, but the durability isn't able to subject itself to more intense situations like contact sports. However, a mouth-guard does provide a higher level of durability that can withstand any sports activities you might find yourself in.
Can Invisalign fix really crooked teeth?
Believe it or not, people believe that if their teeth are "really crooked," that their only option is to go with metal braces. However, the metal brackets are ineffective straightening teeth that are severely crowded. With Invisalign, it has proven to be the most effective out of the two when it comes to correcting teeth that have been exposed to severe overcrowding.
Overlapped and/or rotated teeth are also a couple of cases where Invisalign has proven to serve patients more justice than traditional braces have been capable of. While it's not proven, it's probably due to the flexibility that Invisalign offers in its construction.
Can you drink coffee with Invisalign?
No, because it could warp the aligner just like any hot beverage would. It is important to keep in mind that Invisalign is just made up of clear plastic. This means that an extra level of care needs to be embraced so that you don't damage your aligner in any way.
Can you get Invisalign for top teeth?
There is an option to get Invisalign just for your top teeth, or just for your bottom teeth. However, it's recommended as combining treatment for both arches will get you a much stronger bite. Not to mention, it will ensure that any corrections that need to be made are done, regardless of how slight or unnoticeable that they may be.
As for the price difference, it's realty not that much more to have top and bottom aligners than it is just to have a single aligner. The results that it produces outweigh the few bucks that you could save by cutting corners when it comes to your Invisalign treatment.
Can you kiss with Invisalign?
Since Invisalign aligners are custom to the specific structure of your mouth, they tend to fit very closely to your teeth. Most of the time, the other part won't even notice that you're using Invisalign when they're kissing you due to how tight they actually fit.
As far as dislodging while you're kissing, this isn't an issue either. Many might say that it's much better to kiss someone with Invisalign than it is to kiss someone with traditional metal braces.
Does Invisalign change your face shape?
In most cases, those who have experienced misalignment find that going through Invisalign treatment can actually improve one's facial shape. This is because the jaw as well as the teeth are brought back into proper alignment.
In rare circumstances, a jaw imbalance could pose an issue that creates a negative impact on one's facial structure. Usually, your dentist will be able to tell you during your initial Invisalign consultation whether this is a risk that you face when undergoing treatment or not.
Does Invisalign make your lips bigger?
There have been times when patients have reported that invisible braces (such as Invisalign) that allowed them to embrace a more youthful look. In some cases, their lips looking bigger/fuller was one of these effects. However, this is one of those things that varies with each person individually, so it may or may not be a possibility for you.
How much does Invisalign cost without insurance?
According to the official website of Invisalign, you can expect to pay anywhere within the range of $3,000 to $7,000. In most cases, you probably won't have to pay any more than $5,000. Of course, it all boils down to what package you choose, how many aligners are needed, and how complex the treatment will need to be in order to deliver the best results possible.
Another thing to keep in mind is that it's usually best to embrace the assistance of a dentist who doesn't only focus on orthodontics. This will help keep the cost down to ensure that you get the best deals possible as an orthodontist can be more expensive than if you were to go this route.
How much do you pay per month for Invisalign?
This depends on the financing that you embrace, but we have seen our patients pay on average between $100-$130 per month for their Invisalign treatment. In many cases, this was done with $0 down as well since they embraced a lender that was specifically for their dental needs.
If you use an FSA (Flexible Spending Account) or HSA (Health Savings Account), you may be able to eliminate the monthly payment in its entirety if there are enough funds to cover the treatment. Just speak with your dentist beforehand to figure out all the financial details so that you are well-prepared.
How painful is Invisalign?
The Invisalign long-term comfort level is one that's claimed to be one of the most painless teeth straightening treatments that currently exists in the world of dentistry. The only complaints we get in regards to discomfort is when a patient is getting used to wearing their invisible tooth aligners.
After a little bit, the discomfort will subside. This experience is just your gums and teeth getting used to the change that's being presented to them. As your teeth move back into the proper places, and your mouth structure strengthens itself, it's a truly painless experience.
Is Invisalign a permanent fix?
Yes, because the treatment is designed to provide long-term results when it comes to straighter teeth and a more beautiful smile. In extreme cases, the treatment itself may last a little longer but rest assured that it's just part of naturally correcting the placement of your teeth and enhancing your overall facial structure.
Is Invisalign worth the money?
Absolutely, it's the most popular form of teeth alignment in the world and it has produced remarkable results for many of our patients here in our Houston dental office. If your case isn't to the point where extensive treatment is necessary, it's probably the best option that you have available to you.
Of course, if you want to make sure the choice you make is the right one, schedule a time with your dentist to discuss the possibilities of Invisalign and any alternatives that may be available to you.
What are Invisalign retainers made of?
To be specific, Invisalign retainers are made of SmartTrack. SmartTrack is a flexible plastic that contains no BPA, BPA, gluten, or latex. It is simply a flexible plastic that is made only for Invisalign treatment, and you won't find it used in anything else since it is exclusive.
What is Invisalign treatment?
Many people claim that Invisalign is the most direct approach to straightening your teeth in a way that traditional metal braces are unable to. You wear a set of clear aligners that are custom-made to promote the corrections in your mouth structure and teeth that need to be made.
If we were to sum it up in two words, Invisalign treatment is the dental procedure that has been coined as the ultimate solution for those seeking invisible braces.
What is the age limit for Invisalign?
There are many packages offered when it comes to the Invisalign dental treatment, with Invisalign targeting kids as young as 6 years old that need a little help with teeth correction. As far as how old you can be, Invisalign has proven itself to be a worthy solution for everyone regardless of how old they are.