Most people aren't particularly fond of going to the dentist, least of all when they know the appointment is going to involve poking, prodding, and painful procedures. However, when you have a toothache, your dentist is exactly who you want, because they're the only one who can relieve you of your pain. From cavities to inflamed nerves to cracked teeth, oral pain can prevent you from living your life as usual, and even make it impossible to maintain a healthy diet. A simple filling or crown can be enough to solve that problem, but making a dental appointment is a necessary first step.
Once you have a crown in place, you may think that tooth should be protected from such afflictions, right? While that would certainly be ideal, it's still possible to experience pain from that tooth unless you've had a root canal procedure done beneath it. More often than not, that pain stems from a dental crown infection, which will require another trip to the dentist before you find relief.
Causes: How Does a Dental Crown Get Infected?
There are a few potential causes for a dental crown infection, so it's important to get the source of the pain checked out before the infection has the chance to worsen or spread. Possible causes include:
Dental Caries forming under your crown
Sometimes, dental crowns are not sealed completely when they are placed inside your mouth. Micro-gaps form around the crown and your own tooth, which allows bacteria to proliferate in those areas leading to cavities. These cavities slowly penetrate through your tooth structure and into the nerve tissue, which can lead to a tooth infection under the crown itself.
Inflamed or traumatized nerves
If you have not had a root canal procedure done on the tooth in question, you still have nerves running from your gums into the root of the tooth. Crowns can put pressure on the teeth they affect, and that pressure can cause trauma and inflammation in the nerves underneath, leading to painful infections.
Bacteria from fillings beneath the crown
Sometimes, fillings in a tooth that has a crown on it can leak bacteria into the surrounding gum tissue and infect the nerves. Again, this will lead to pain and inflammation, impeding your daily activities like chewing and brushing your teeth.
None of these scenarios are likely to resolve themselves without professional attention, so try not to delay making a dental appointment. Talk to your dentist and make sure to list any and all symptoms you're experiencing, and mention any visual changes you have or haven't noticed so they can make an accurate diagnosis and treatment plan for you.
Symptoms: How Do You Know It's Infected?
So what do you look out for? How do you know that it's an infection and not simply a matter of needing a resizing or realignment? Or that your pain is completely unrelated to your crown altogether, such as in the case of bruxism (the habit of grinding your teeth while you're asleep, which can also result in pain and some swelling when you wake up). There are a few telltale signs that differentiate a genuine dental crown infection from other issues. If you're experiencing any or all of the following, it's time to contact your dental office and see about making an appointment. Symptoms may include:
Pain when you bite down
Inability to chew with that side of your jaw thanks to the pain
Swelling and/or redness in the surrounding gums
Increased sensitivity to cold or hot temperatures
Fever
If you have a fever combined with any of these other symptoms, that's an instant indicator that you have an infection that will require antibiotics and immediate action from your dentist. However, even if you're experiencing other symptoms without the fever, your dental crown may still be infected. No matter what combination of oral symptoms you have, consult with a professional to ensure that nothing gets worse and you get the treatment and relief you need.
Remedies: How Can You Treat a Dental Crown Infection?
Well, you've been diagnosed with an infection after all. Now what? First and foremost, there's no need to panic, especially if it was caught fairly quickly. In most cases, after eliminating other possibilities such as those mentioned above (bruxism, realignment, and resizing), your dentist will determine what actually caused the infection. However, the most common remedy for the underlying cause is ultimately going to be a root canal procedure.
There are two ways to go about this for a tooth that already has a crown on it. Typically, the current crown will be removed so that the dentist can access the parts of the affected tooth and gum necessary for the procedure. This does mean that a new crown will be needed after the root canal, but the procedure itself should both relieve any undue pressure and completely eliminate the possibility of nerve inflammation altogether.
Crowns can be expensive, though, and cannot be reused once removed. Therefore, some dentists may elect to try to drill a hole through the existing crown and perform the root canal procedure through that hole instead. This cannot be done in all cases, but feel free to ask your dentist about it if you would be more interested in this method. If it isn't advisable or possible in your case, they will simply explain as much and utilize the more common method.
In either case, you may need to take antibiotics to fight the infection as well, but the root canal procedures should prevent any future dental crown infections and help relieve your pain fairly immediately.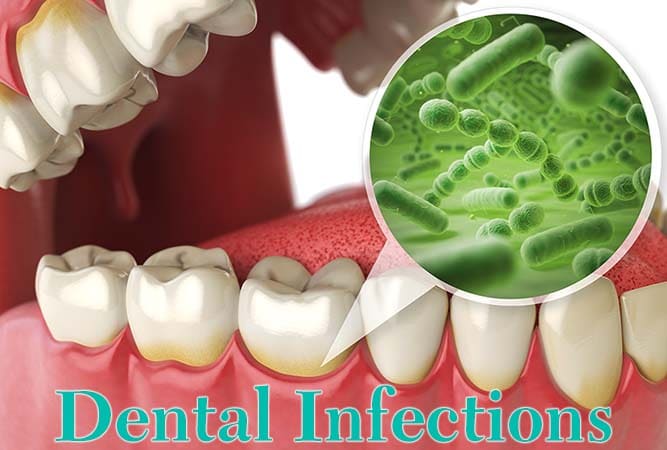 The Takeaway
Dental procedures may not be enjoyable for the most part, but proper dental work is absolutely vital in being able to maintain your daily routine and diet. Always communicate anything strange about your oral health with your dentist and monitor unusual changes and unexplained pains. Some pains may be temporary or easily explained, such as eating something sharp enough to accidentally pierce a gum or grinding your teeth at night.
Others, however, indicate something much more serious that won't resolve itself on its own. The sooner you address and treat any potential issues, the sooner you can return to life as normal, and the less likely you'll be to have to make additional trips to your dental office!